Mercyhurst Theatre Program stages classic tale of love and loss
Tuesday, March 27, 2018
The Mercyhurst Theatre Program concludes its 2017-18 season April 12-15 with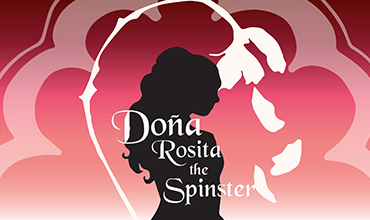 Doña Rosita the Spinster, a rarely produced masterpiece by Spanish poet and playwright Federico García Lorca. 
At the turn of the 19th century, a spirited young woman spends more than two decades waiting for her fiancé to return from abroad and marry her, but finally loses all hope as the years pass her by. Set in Granada, Spain, the play draws symbolic parallels between Doña Rosita and the magically transformative nature of the rosa mutabilis, which blossoms, withers and dies in a single day. First performed in 1935, Doña Rosita was greeted as one of the playwright's finest achievements and remains a classic of Spanish theatre.
Director Dr. Brett D. Johnson calls Doña Rosita "a heartbreaking meditation on the destructive power of time and a tribute to the dignity of the human spirit."
"The play is highly poetic," Johnson said. "And features some of the most beautiful language in all of Lorca's theatre. But it's also terribly funny, awash in Lorca's characteristic humor."
Johnson and the creative team have reconfigured Taylor Little Theatre to create a more intimate experience, with audience members seated onstage surrounding a circular playing area. Because of this arrangement, only 100 seats will be available for each performance.
Doña Rosita the Spinster features Jacob Tretinik (Uncle), Jillian Johannes (Aunt), Abby Larimore (Housekeeper), Sarah Krempasky (Rosita), Tyler Kirchmeir (Nephew), Rosie Pregler (First Manola), Tessa Sayre (Second Manola), Monica Tinsley (Third Manola), Ella Santillano (Señor X), Elizabeth Shewan (First Spinster), Alexis Webb (Second Spinster), Vivian Suazo (Third Spinster), Ashley Poletto (Mother), Owen Hitt (Don Martín), Justice Alleruzzo (First Workman), Ben VanHook (Second Workman) and Janeida Turbi (Young Woman).
The production team includes scenic designer Aaron White, lighting designer Madeleine Steineck, choreographer Maria Dombrowski, production stage manager Kathryn Schmitt, and assistant stage managers Erin Fink and Jenna Rosciszewski.
Performances are Thursday through Saturday, April 12-14, at 7:30 p.m., and Sunday, April 15, at 2 p.m. in Taylor Little Theatre on the Mercyhurst campus.
Single tickets are $15 for adults; $10 for senior citizens/students, and $5 for youth and Mercyhurst students with I.D. All performances are general admission, with doors opening 30 minutes prior to curtain. 
Patrons can reserve their tickets online at miac.mercyhurst.edu, by phone at 814-824-3000 or at the Mary D'Angelo Performing Arts Center box office. Tickets will also be on sale at Taylor Little Theatre beginning one hour before curtain.
For more information, visit miac.mercyhurst.edu.