Mercyhurst Theatre Program retells Wilde classic on Zoom platform
Thursday, September 17, 2020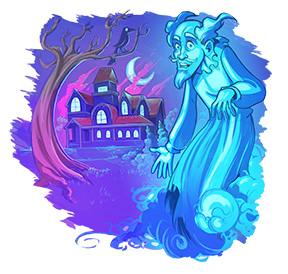 The Mercyhurst Theatre Program opens its 2020-21 season with a world premiere Zoom adaptation of Oscar Wilde's The Canterville Ghost.
The ghost of Sir Simon de Canterville has rattled around his ancestral castle for more than 300 years, alone and content. But his quiet life is upended when an American family – a diplomat, his wife, and their two children – moves into the house. Will the Canterville ghost survive the shock? First published in 1887, Wilde's tale is full of sly humor and wry sentimentality. Plus a few good scares.
This new version of Wilde's tale was penned by award-winning playwright and historian Mary Barile, who previously adapted A Dickens of a Carol, Anne of Green Gables, and Oh, Whistle, and I'll Come to You, My Lad: An Erie Ghost Story for the Mercyhurst Theatre Program.
Barile, who holds a Ph.D. from the University of Missouri, has adapted forgotten American plays such as The Pedlar and Liberty in Louisiana, as well as the writings of Mark Twain, M.R. James, Homer, and Washington Irving. Her works have been performed at The York Theatre, The Open Eye, and Arclight Theatres in New York, the American College Theatre Festival at the Kennedy Center, and regional theatres in the U.S. and Canada.
"Oscar Wilde's well-loved spirit was conjured for his children's story hour, and Sir Simon remains a favored role for actors like Charles Laughton and Sir Patrick Stewart," Barile said. "Along with the humor and scares, the story emphasizes a belief in the inherent kindness of people, something we can all appreciate and need right now. I hope this production will introduce viewers to one of the 19th century's classic ghosts and more Wilde humor."
The production, which is being helmed by theatre program director Dr. Brett D. Johnson, is being rehearsed and performed via Zoom in accordance with the university's COVID-19 policies.
"I miss being in the rehearsal hall with our students, but I've also enjoyed the challenge of adapting our rehearsal process for an online platform, experimenting with different ways of storytelling, and troubleshooting our technical problems," Johnson said. "Zoom theatre is here to stay, so I hope we can become more conversant and creative with the technology." 
The cast of The Canterville Ghost includes Colin Domowicz (Narrator), Bradley Ward (Lord Canterville), Jon Reddinger (Mr. Otis), Abigail Whitman (Mrs. Otis), Allison Christopher (Virginia), Connor Brace (Washington), Rachele Heasley (Mrs. Umney), and Braden Rosciszewski (The Canterville Ghost).
Performances are Thursday through Saturday, Oct. 1-3, at 7:30 p.m., and Sunday, Oct. 4, at 2 p.m. All performances are free, but registration is required. For more information, and to register, visit the MIAC website.