Mercyhurst theatre program ends season with campy whodunit
Tuesday, March 05, 2019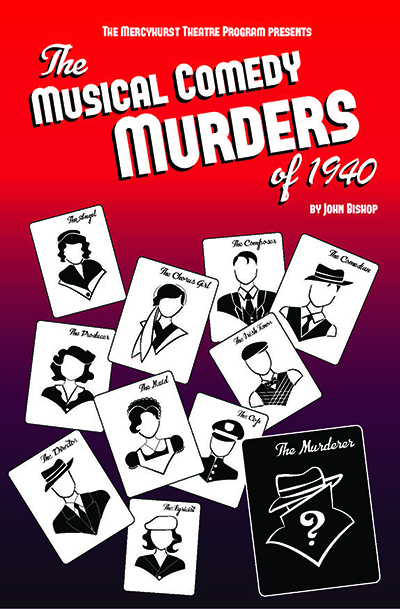 Take some showbiz glitter, add a dash of door-slamming slapstick, mix in some World War II political intrigue, a bunch of mistaken identities and a mansion riddled with secret passages, and what do you get? John Bishop's deliciously campy The Musical Comedy Murders of 1940, running March 28-31 and April 5-7 in Mercyhurst University's Taylor Little Theatre. The production marks the 2018-2019 season finale of the Mercyhurst Theater Program.
The creative team responsible for a recent Broadway flop, in which three chorus girls were murdered by the mysterious "Stage Door Slasher," assemble for a backer's audition of their new show at the Westchester estate of a wealthy "angel." The house is replete with sliding panels, secret passageways and a German maid who is apparently four different people – all of which figure diabolically in the comic mayhem that follows when the infamous "Slasher" makes his reappearance and strikes again and again.
As the composer, lyricist, actors and director prepare their performance, and a blizzard cuts off any possible retreat, bodies start to drop in plain sight, knives spring out of nowhere, masked figures drag their victims behind swiveling bookcases and accusing fingers point in all directions. However, and with no thanks to the bumbling police inspector who snowshoes in to investigate, the mystery is solved in the nick of time and the "Slasher" unmasked, but not before the audience has been treated to a sidesplitting good time and a generous serving of the author's biting, satiric and refreshingly irreverent wit.
The Musical Comedy Murders of 1940 was first performed at the Circle Repertory Company in New York City, later moving to Broadway's Longacre Theatre, where it enjoyed a critically-acclaimed run in 1987. Both productions were directed by the playwright.
The cast of Musical Comedy Murders includes Jillian Johannes (Helsa Wenzel), Grace Sloop (Elsa Von Grossenknueten), John Hetrick (Michael Kelly), Jon Reddinger (Patrick O'Reilly), Jacob Tretinik (Ken De La Maize), Jenna Rosciszewski (Nikki Crandall), Chance Wandler (Eddie McCuen), Tessa Sayre (Marjorie Baverstock), Aidan Giles (Roger Hopewell) and Ella Santillano (Bernice Roth).
The production team consists of director Dr. Brett D. Johnson, assistant director Abby Whitman, scenic designer Tucker Topel, lighting designer Madeleine Steineck, technical director Andrew Ferguson, sound engineer Ben Friesen, production stage manager Rebecca Holt and assistant stage managers Allison Christopher and Darby Shafron.
Performances are March 28-30 and April 5-6 at 7:30 p.m., and March 31 and April 7 at 2 p.m. in Taylor Little Theatre on the Mercyhurst campus.
Single tickets are $15 for adults; $10 for senior citizens/students and $5 for youth and Mercyhurst students with I.D. All performances are general admission, with doors opening 30 minutes prior to curtain.  
Patrons can reserve tickets online at miac.mercyhurst.edu, by phone at 814-824-3000 or at the Mary D'Angelo Performing Arts Center box office. Tickets will also be on sale at Taylor Little Theatre beginning one hour before curtain.
For more information, visit miac.mercyhurst.edu, or contact theater program director Brett Johnson at 814-824-2663; bjohnson@mercyhurst.edu.