Mercyhurst Theatre Program debuts Erie ghost story
Friday, October 26, 2018
The Mercyhurst Theatre Program continues its 2018-19 season with a new adaptation of M. R. James's classic ghost story, Oh, Whistle, and I'll Come to You, My Lad.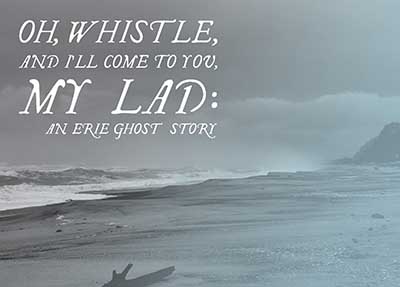 Theatre program director Dr. Brett D. Johnson commissioned the work from award-winning playwright and historian M. M. Barile, who penned the theatre program's recent production of Anne of Green Gables.
Barile has adapted forgotten American plays such as The Pedlar and Liberty in Louisiana, as well as the writings of Mark Twain, M.R. James, Homer and Washington Irving. Her works have been performed at The York Theatre, The Open Eye and Arclight Theatres in New York, the American College Theatre Festival at the Kennedy Center and regional theatres in the U.S. and Canada.
Her adaptation of Oh, Whistle, subtitled An Erie Ghost Story, is set in 1906 at the fictional Globe Seafront Hotel, where a college professor, his sister and a friend find a whistle on the shore and summon something hidden for generations. They quickly learn that skepticism is no defense against the supernatural.
"Ghost stories tell us so much about ourselves: who we are, what we value, who we love," Barile says. "And then there are stories that exist only to unsettle, the old fears of shadows and something that lies in wait. M. R. James was a master of those tales, and Oh, Whistle reminds you that the dark is never cozy. Or safe."
Bethany Sulecki, who graduated from Mercyhurst in May 2017 with a B.M. in Music Education and a minor in Theatre, helms the production. She says that Barile's adaptation "expertly balances suspense with the humor that characterizes M. R. James's work."
The cast of Oh, Whistle includes Monica Tinsley (Sarah Jane Parkins), Owen Hitt (David Parkins), Jillian Johannes (Arlene), Gabe Grey (Andrew Wilson), Elizabeth Shewan (Mrs. Anstruther), Jenna Rosciszewski (Second Maid) and Ella Santillano (Ghost).
The production team is comprised of scenic designer Tucker Topel, lighting designer Madeleine Steineck, production stage manager Rebecca Holt and assistant stage managers Tessa Sayre and Darby Shafron.
Performances are Friday, Nov. 16 at 7:30 p.m. and 11:55 p.m. (midnight performance); Saturday, Nov. 17 at 7:30 p.m.; and Sunday, Nov. 18, at 2 p.m. in Taylor Little Theatre on the Mercyhurst campus.
Single tickets are $10 for adults; $7 for senior citizens/students and $5 for youth and Mercyhurst students with I.D. Tickets for the midnight showing are half-price. All performances are general admission, with doors opening thirty minutes prior to curtain. 
Patrons can reserve their tickets online at miac.mercyhurst.edu, by phone at 814-824-3000 or at the Mary D'Angelo Performing Arts Center box office. Tickets will also be on sale at Taylor Little Theatre beginning one hour before curtain.
For more information, visit miac.mercyhurst.edu or call 814-824-3000.