Mercyhurst students triumphant at Public Health Scholar Bowl
Monday, April 08, 2019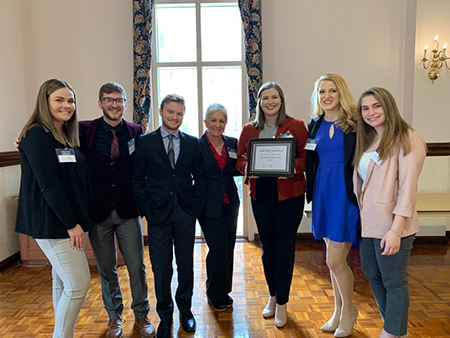 A team of undergraduate students from Department of Public Health at Mercyhurst University took home first place in the case study competition at the 2019 Public Health Scholar Bowl at Saint Louis University on Saturday, April 6.
The Mercyhurst team included (see photo, l-r) Karrah Savage, Joshua Froess, Matt Dempsey, Public Health Department Chair Dr. M Beatriz Torres, Hannah Buncher, Nina Hollopeter and Jaqueline Rogers.
They competed against George Washington University, Brown University, University of Alabama, Ohio State University, Macalester College, Johns Hopkins University, Temple University, and Lindenwood University. The second place went to George Washington University.
The case study involved examination of the issue of food deserts in Erie. Using community-based participatory action research, they created an intervention consisting of creating healthy corners in six corner stores, a blood pressure initiative, and more.
Torres expressed praise for the Mercyhurst team and its performance over the weekend. She said a panel of six judges rigorously evaluated each team's performance, content accuracy, evidence-based approach, creativity and feasibility, before awarding the Mercyhurst team 84 out of 86 possible points.
Now in its seventh year, the Public Health Scholar Bowl at Saint Louis University is an opportunity for undergraduate students to test their public health knowledge, connect with their peers, and compete for cash prizes of up to $1,000 in a quiz bowl competition and a case study challenge.