Mercyhurst students share research on human trafficking
Tuesday, April 02, 2019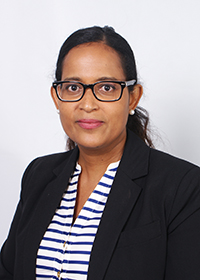 Every year, millions of men, women, and children are trafficked in countries around the world. It's hard to imagine this modern-day slavery happening in the United States, but students in Dr. Nicole John-Danzell's Human Trafficking course are learning just how widespread it is.
"Students are often shocked to learn about the pervasiveness of Trafficking in Person (TIP) around the world, and especially incidences locally and nationally," said John-Danzell. "My intent with this class is to help students fully understand not only the pervasiveness of trafficking in person, but the complexity of the problem." 
In fact, estimates are that human trafficking generates billions of dollars in profits each year, second only to drug trafficking as the most profitable form of transnational crime.
John-Danzell's students will open their classroom, Sullivan 3, to the rest of the college community on Tuesday, April 30, from 2 to 3:15 p.m. to share their research projects on the subject. Each of six groups will present research on a selected region of interest, such as Asia, Latin America, Europe, and Africa, which report high rates of Trafficking in Person (TIP).
"I hope my class helps to raise awareness about human trafficking, and the role consumers play in human trafficking, such as consuming seafood products made by the hands of trafficked victims in the fishing industry in Thailand," John-Danzell said.
The presentations will investigate several salient issues: the larger historical/cultural and sociopolitical context in which human trafficking is conducted and even condoned; forms of trafficking identified by the United Nations Protocol to Prevent, Suppress and Punish Trafficking in Persons; the victims of trafficking; and global trafficking routes.
The students' work also investigates strategies to mitigate the problem of modern-day slavery, focusing on recommendations from governments, in general, and the FBI in particular, as well as non-governmental organizations, private sector/companies, individuals, and social movements aimed at prevention.
PHOTO: Dr. Nicole John-Danzell