Mercyhurst students set forth to slay the gerrymander
Tuesday, November 27, 2018
How Harrisburg approaches political redistricting in 2021 could have everything to do with 100 Mercyhurst University students in Dr. Joe Morris's Campaign Strategy & U.S. Elections course.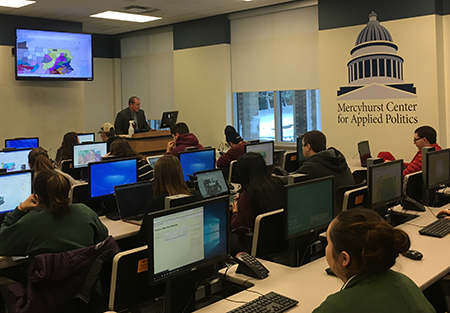 The students are engaged in a mapping contest hosted by Draw the Lines (DTL) PA, a statewide civic education initiative intended to help Pennsylvanians of all ages learn more about political redistricting and gerrymandering while simultaneously lobbying for reform.
Using the same digital tools needed to draw a valid election map, individuals, community groups, service clubs and student organizations are drawing their own maps, one by one making the case for a larger voter role in redistricting. Winners of regional contests – East, West and Central – will then face off for statewide honors with prizes of up to $5,000. Entries will be evaluated on several quantitative metrics.
If Mercyhurst's team were to win a prize, that would be great, acknowledged Morris. But the exercise is more about exposing the folly in the redistricting process, where politicians have divided the map into political units, giving advantage to one party over the other.
"It's also to say, 'we're on to you' – enough is enough," Morris said.   
DTL is hoping to receive thousands of maps, enough to affect how politicians in Harrisburg approach redistricting in 2021. According to the DTL website, the state's politicians "will find it flat-out dangerous to their political careers to try anything as secretive and partisan as they pulled off last time."  
After the 2010 census, Pennsylvania drew new congressional districts to accommodate changes in the state's population.
"The new congressional districts were so gerrymandered that Pennsylvania was considered by many to be the most gerrymandered state in the nation," Morris explained. "In 2018, the Pennsylvania Supreme Court found that the districts violated the state's constitution and ordered the state legislature to redraw district lines. When the legislature failed to submit a map that satisfied the justices, the Court redrew the district map itself." 
The redistricting process will begin again after the next census in 2020. Morris said his students' deadline is Dec. 3; entries must be submitted by Dec. 14.