Mercyhurst students make World Youth Day pilgrimage
Tuesday, January 08, 2019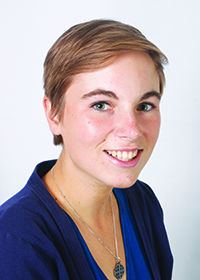 On the same day that hundreds of thousands of pilgrims will be making their way to the closing vigil of World Youth Day in Panama City, Panama, young people in the United States, including more than a dozen students from Mercyhurst University, will be converging in Washington for a Catholic festival called Panama in the Capital on Saturday, Jan. 26.
The Mercyhurst group is led by Campus Minister Michelle Scully, who says, "I think there is an inherent value that comes with a pilgrimage-style trip such as this one. Forcing ourselves out of our daily routines and into a physical journey toward a faith-based event often fosters experiences of encounter- with God, each other, and with ourselves. We are able to be drawn out of ourselves and slow down enough to notice moments of goodness, truth and beauty."
World Youth Day events happen every three years. "Since it is difficult to get to Panama once the semester has already started, it is so wonderful that the Archdiocese of D.C. is offering a stateside celebration in conjunction with this larger event so that our students can still gather and pray with others in celebration with those in Panama," Scully adds.
The stateside celebration, which includes seven event stages, speakers, prayer and live music, will be held at The Catholic University of America, Saint John Paul II National Shrine and the Basilica of the National Shrine of the Immaculate Conception. It will conclude with a bilingual vigil Mass with Archbishop Christophe Pierre, the apostolic nuncio to the United States; and candlelight Stations of the Cross in the basilica's Crypt Church, led by Baltimore Archbishop William Lori. A live stream of Pope Francis's activities in Panama will connect the pilgrims in Washington with the pilgrims in Panama City.
"Being a Catholic college student is not something that always feels easy, especially now," says Scully. "I hope that this event is able to be a reminder to our students that they aren't in it alone, and that there is a hope and joy rooted deep in their faith that they are all working to carry on together."
Mercyhurst students signed up to attend the event are Maria Montoya, Allie Schweiger, Erin Almeter, Maggie Kovach, Sarah Shade, Collin Davis, Oliva Gaffron, Nick Woll, Elizabeth Shewan, Abbie Harrington, Mariale Duron and Kristian Biega.