Mercyhurst students dominate division in Draw the Lines PA
Monday, July 01, 2019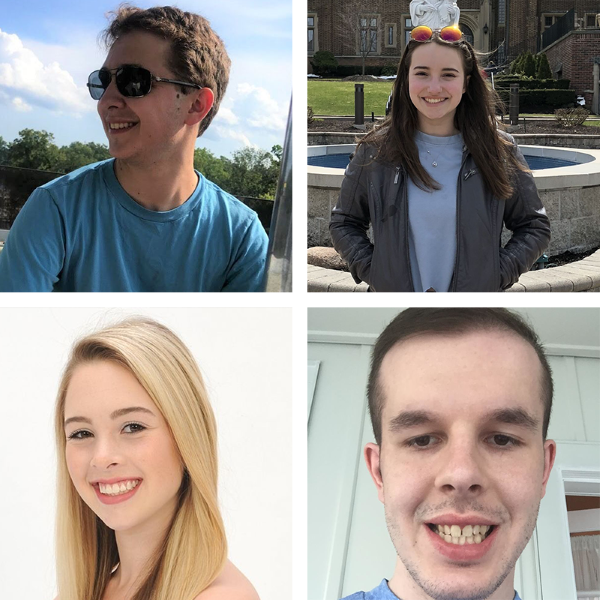 A community-minded political scientist, a creative innovator, a dancer and an aspiring FBI agent – all Mercyhurst University students – claimed top awards in the Higher Ed-West category of the second public mapping competition sponsored by Draw the Lines PA, a statewide civic education initiative intended to help Pennsylvanians learn more about political redistricting and gerrymandering.
Logan Ford, a senior Political Science major from Erie, took First Place; Miranda Henry, an undecided major from Buffalo, claimed Second Place; and two of the three Honorable Mentions went to Sydney Gondringer, a sophomore Dance major from Cranberry; and junior Admir Barucija from Erie, a first-generation American double-majoring in Intelligence Studies and Political Science.
"To have Mercyhurst students win four of the five top prizes in the Higher Ed-West division is a testament to their skill, their creativity and their commitment to the task," said Dr. Joseph Morris, chair of the university's Political Science Department and director of the Mercyhurst Center for Applied Politics. "We're very proud of them."
Using the same digital tools needed to draw a valid election map, 70 students under Morris' supervision drew their own maps last spring, one by one making the case for a larger voter role in redistricting. All entries that earned regional firsts or seconds, including those of Ford and Henry, now move onto judging for statewide prizes ($5,000 for first in an age group; $2,500 for second).  Those winners will be announced at an award event in the State Capitol on Sept. 24.
This is what the judges had to say about Mercyhurst's winners:
Logan Ford
"Logan went above and beyond the competition requirements with outstanding metrics, clear and well executed values and a thoughtful essay that describes the personal impact of gerrymandering in his community. Logan earned additional points with us for his focus on community engagement, including his notable success in getting several elected officials to be endorsers."
Miranda Henry
"Miranda skillfully met her goals with an outstanding map and a thoughtful essay that detailed how she achieved the metrics she did, while overcoming some mapping challenges. She achieved one of the highest competitive district scores, which aligned with her well-articulated intention."
Sydney Gondringer
"Sydney achieved the highest score for competitive districts that we saw in this division and developed a well-articulated personal statement that outlined her process and challenges. Her entry really shows that even someone who hasn't followed redistricting as an issue before can do good work, if the willingness to work at it with a sense of fairness is there."
Admir Barucija
"Admir created a thoughtful personal statement and a well-designed map. He earned points with us for his engagement of others in discussion about values and priorities in an attempt to build consensus." 
Look here for a full list of honorees with their bios, photos, maps, judges' statements and essays. 
PHOTO: (Clockwise from top left) Logan Ford, Miranda Henry, Admir Barucija and Sydney Gondringer.