Mercyhurst slates weeklong observance: 'I Stand with Immigrants'
Thursday, October 17, 2019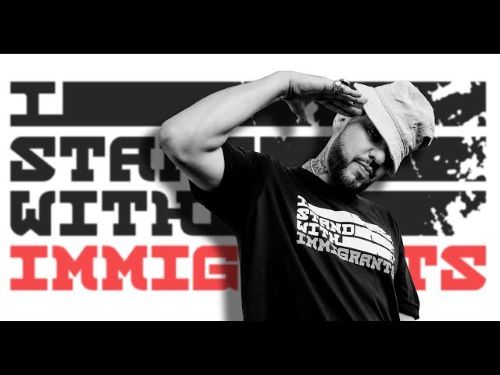 (EDITOR'S NOTE: UPDATE Oct. 23, 2019 – In keeping with the Sisters of Mercy's critical concern for immigration and their longstanding commitment to upholding human dignity and advocating for those on the margins of society, Mercyhurst University is joining the Presidents' Alliance for Higher Education and Immigration. This coalition of high-profile colleges and universities pledges to advocate for and support DACA students who have succeeded in high school and deserve access to continued success in higher education. Mercyhurst University is also joining concerned universities and organizations to file an amicus brief with the U.S. government calling for specific protections and actions to support DACA students. This is a fitting action amid Mercyhurst University's strong weeklong participation in the "I Stand with Immigrants" campaign. Student and faculty organizers of these events were key in initiating discussions to add Mercyhurst to the growing list of colleges and universities that are committed to standing up for the dignity and rights of immigrants.)
As students at more than 180 institutions across the country mobilize for the 4th annual "I Stand with Immigrants College & University Day of Action" on Oct. 22, Mercyhurst University plans an entire week of observances designed to celebrate immigrant cultures.
The weeklong series of events, organized by seniors Megan Quiñones and Luis Flores, are sponsored by the departments of World Languages and Cultures, Catholic Studies, Applied Sociology and Social Work, in cooperation with Vice President for Mission Dr. Greg Baker. They are free and open to the college community.
The observance is particularly important for Mercyhurst, given that one of the critical concerns of the Sisters of Mercy is "immigration." The Sisters pledge their belief "in the dignity of every person" and they "work for just and humane immigration laws in the U.S., address policies that push people to flee their countries, and examine the global impact of immigration."
Meanwhile, Dr. Alice Edwards, professor of Spanish and a Mercy Emissary, said, "Mercyhurst's history has been tied to that of Erie's immigrant communities. The Sisters' focus on hospitality is a call for us – our university, community, and country – to respond to the needs of displaced peoples and find just ways to welcome them in."
For Flores and Quiñones, a Mexican immigrant and the daughter of Mexican immigrants, the goal is to drive awareness and elevate the conversation about immigration on campus. Quiñones said the slate of events is designed to do that and to offer opportunities for interested persons to get involved.
Schedule of Events
Monday, Oct. 21, brings a presentation on "Myths and Misconceptions about Immigrants and Refugees" by Deborah Pazmiño, program director for Immigration and Language Services at the Multicultural Community Resource Center in Erie. She has worked at the agency for 31 years, serving as an advocate for immigrants and refugees as a case worker, Spanish interpreter, and immigration specialist. Her presentation is in Zurn Hall, Room 114, from 4:30 to 5:30 p.m.
On Tuesday, Oct. 22, Zurn 114 will again be the venue for a live webinar with Rafael Alejandro, a Chicano/a Studies doctoral candidate and UndocuScholar from the University of New Mexico. He will discuss the immigrant civil rights movement's history and strategies for organizing on a university campus from 1 to 2 p.m.
Wednesday, Oct. 23, offers a presentation by Lydia Laythe, Trauma and Addiction Program coordinator from the U.S. Committee for Refugees and Immigrants. She will speak at 4 p.m. in Sullivan Hall, Room 3, from 4 to 5 p.m.
The concluding event on Thursday, Oct. 24, welcomes exhibitors from the Erie community who will share their immigrant cultures and teach attendees ways they can help their communities. If you've ever wondered "What can I do?" this is the event for you. It is slated for 5 to 7 p.m. in the Audrey Hirt Academic Center, Room 212.  
For more information, contact Dr. Alice Edwards at aedwards@mercyhurst.edu.