Mercyhurst seniors gift funds for Living the Dream Scholarship
Friday, May 10, 2019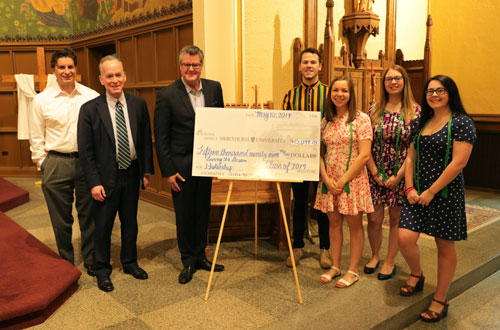 The Mercyhurst University Class of 2019 presented President Michael T. Victor with a check for $15,099.78 to fund the newly created Living the Dream Scholarship during a ceremony Friday, May 10, at 2 p.m. in Christ the King Chapel.
Since 1989, each senior class has bid farewell to its alma mater by bestowing a gift upon the university. In 2018, the decision was made to create an annual scholarship as the gift, which is a more sustainable model, explained Lindsay Frank, director of alumni engagement and advisor to the Senior Gift Committee. In years past, the growth and expansion of the university had displaced some gifts. For instance, the SportCourt gifted by the Class of 2007 was removed to make room for construction of Ryan Hall last year.
Meanwhile, alumnus and Trustee Lev Kubiak, who for many years has been a generous supporter of Mercyhurst, particularly its students, has agreed to match the students' gift up to $10,000, which he also did last year, the result being creation of two endowed scholarships. The newest scholarship will assist with tuition costs to offset other costs for a student who is pursuing an internship or career experience.
"It is amazing how these students have had the ability to pull together with relatively limited resources and raise this amount of money for a scholarship," said Kubiak. "I am both happy and honored to have been asked by President Victor to help enable this opportunity and I look forward to seeing the connection these students maintain with the university in the years to come."
The new scholarship takes its name from motivational speaker and author Curtis Zimmerman, who regularly speaks at Mercyhurst during Welcome Week in the fall. Drawing from his own experiences, Zimmerman's talks go beyond the standard self-improvement message by positioning one's life as a performance: you determine your role, write your script, and cast your show wisely to live your dream. 
Zimmerman was on hand for the gift presentation and spoke briefly to those gathered. "Living the dream is helping others to live the dream and you are doing just that with this scholarship," he told the students.
Members of the leadership team of the 2019 Student Gift Committee are chair Maddie Weitz, Taylor Cavaretta, Cole Prots, and Rachel Hull.
"This has been a really great group to work with," said Frank. "The student leaders have set a great example of philanthropy in their own way. They have also done a great job of spreading the message to their peers about the importance of giving back."
PHOTO: (L-R) Trustee Lev Kubiak, President Michael Victor, Curtis Zimmerman, Cole Prots, Taylor Cavaretta, Rachel Hull and Maddie Weitz.