Mercyhurst, Safe Harbor collaborate on Project Kidify
Wednesday, October 31, 2018
Take children to the zoo, the movies, the amusement park, and you'll elicit smiles. Take them to the doctor's office and you're likely to encounter just the opposite.
That's the impetus behind a project conceived by Safe Harbor Behavioral Health of UPMC Hamot and students of the Interior Architecture and Design Department at Mercyhurst University. Called Project Kidify, the partners sought to transform a children's waiting room at Safe Harbor into a child-friendly space that would help put the facility's youngest clients at ease and decrease their stress and anxiety levels.
"Creating a welcoming environment is key to setting the stage for a productive meeting, and also creates a more relaxed space for everyone who visits the agency," said Executive Director Mandy Fauble, Ph.D.
"Right away, we went with the idea of creating a space that would be bright, fun and interactive, but also soothing," said senior Gabriella Macera of Rochester, New York. (at left in photo below)
"We went with blues, greens and yellows and used nature as our theme," said senior Maria Matesa of Pittsburgh. "Studies have shown that nature has a calming effect, especially on children." (at right in photo)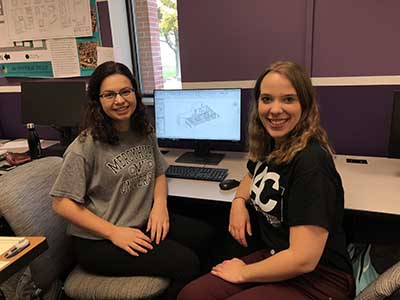 In addition, the design called for incorporating child-size furniture and creating positive distractions, so there's a bookshelf crafted in the shape of a tree, stools with backrests designed in garden scenes and an interactive touch-screen game station on the wall.
Perhaps what's most intriguing is the grasshopper decals on the walls that make it appear as though the smiling green creature is jumping about the room with glee.
Former Mercyhurst employee Missi Berquist, a Safe Harbor Advisory Board member, is donating paintings as part of the renovation. She is also responsible for selecting a poem whose verses are scrolled on the walls of the children's waiting room. The poem is by Mary Oliver, often referred to as one of the nation's most beloved poets. It's called "The Summer Day," but many refer to it as "The Grasshopper."
During the past year, more than 15 students in Kathy Weidenboerner's class participated in the project, which will be unveiled during a ribbon-cutting ceremony on Monday, Dec. 3, at 8 a.m. at Safe Harbor, 1330 W. 26th St.
"This was such a valuable project for students," said Matesa.
"We got the opportunity to practice design in a real-world setting and help our community, too," added Macera.
In addition to Mercyhurst's involvement, Fauble credited the Hamot Health Foundation for funding the project as well as Safe Harbor's support of it.
"We deeply appreciate the sincere commitment of the Safe Harbor community that made this possible," she said. "Among these is Missi Berquist, who reminds us that services should be holistic and foster an array of elements, including the arts, which support recovery and resilience."