Mercyhurst rolls out red carpet for forensic anthropology all-stars
Wednesday, June 05, 2019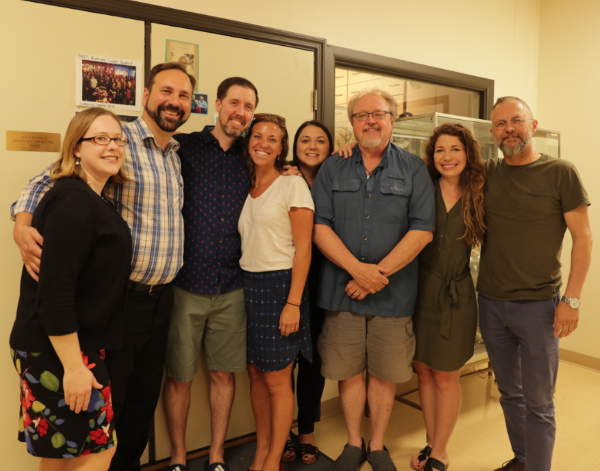 When Dr. Dennis Dirkmaat began the graduate program in forensic anthropology at Mercyhurst University 15 years ago, he had high hopes that the students trained under his watch would go on to topflight doctoral programs and, from there, to the careers of their dreams.
The master's degree program represented the first in the country focused primarily on providing students with a comprehensive basic training regimen in the field. To this day, Dirkmaat and his team of faculty and graduate students are regularly called upon by law enforcement and medical examiners across the tri-state area to evaluate cases from human death scenes, spanning natural disasters to crimes.
This week Dirkmaat welcomed back some of those trailblazers as part of his "All-Stars Short Course." Thirteen students are enrolled in the weeklong course, hoping to glean knowledge, improve their skills, and even snag career advice from 10 of the earliest students in Dirkmaat's program who have gone on to achieve success. 
One such "all-star" is Dr. Kyra Stull. Last fall, Stull co-led a team of 10 students from the University of Nevada, Reno, tasked with identifying victims of the 215-square-mile Camp Fire in Paradise, California. Stull, who is an assistant professor at UNR, is accustomed to identifying burn victims from her years at Mercyhurst and beyond. She earned her doctorate from the University of Pretoria in South Africa.
She said her Mercyhurst education was instrumental in preparing her. "Dr. Dirkmaat established a program that had the perfect mix of hands-on experience and classroom-based knowledge that resulted in competent anthropologists," she said. "Additional experience working with the short courses he offered each summer enabled us to learn from and work with some of the best in the field as well as establish professional relationships." 
And now she is back to return the favor.  So is another colleague from those early days, Nick Passalacqua, who earned his doctorate at Michigan State University and is now the Forensic Anthropology Program Coordinator at Western Carolina University. Interestingly, Passalacqua and his students study human decomposition at the university's outdoor Forensic Osteology Research Station, one of the few such research facilities in the world. The first is the Forensic Anthropology Center at the University of Tennessee, also known as The Body Farm, where former Mercyhurst forensic anthropology professor and Passalacqua mentor Dr. Steven Symes was trained.
One of the very first students to graduate from Mercyhurst's forensic anthropology program was Christopher Rainwater. After earning his doctorate from New York University, he went on to a career as a forensic anthropologist in the Office of the Chief Medical Examiner of the City of New York.
Other visiting alumni presenters on deck this week are:
Dr. Joseph Hefner, Dirkmaat's first graduate student, currently a faculty member at Michigan State University
Dr. Heather Garvin, who teaches anatomy at Des Moines University Medical School
Dr. Alex Klales, who helped launch the forensic anthropology program at Washburn University in Topeka, Kansas, in 2016
Dr. Erin Chapman, forensic anthropologist for the Erie County, New York, Medical Examiner's Office
Dr. Sara Getz, who is instrumental in leading the forensic anthropology program at Idaho State.
"When our students graduate, our primary goal is that they have a significant impact and become leaders in their chosen disciplines," said Mercyhurst Provost Dr. Leanne Roberts. "Having alumni return to campus to share their expertise and wisdom gained from time spent in the profession after graduation is truly a privilege." 
PHOTO: (L-R) Sara Getz, Nick Passalacqua, Chris Rainwater, Kyra Stull, Alex Klales, Dennis Dirkmaat, Diana Messer and Joe Hefner.