Mercyhurst receives Trailblazer Award for mission study
Monday December 17, 2018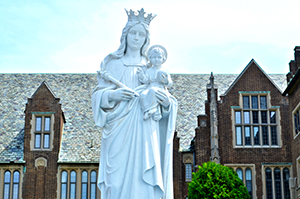 Mercyhurst University has been recognized by Campus Labs — a company that works with institutions to transform higher education through data and analytics — as a winner in its annual awards program.
The awards recognize institutions using Campus Labs tools to drive improvement and innovation on campus, from streamlining administrative processes to enhancing the overall student experience.
Mercyhurst received the Trailblazer Award for facilitating a study of how effectively the university's mission is integrated across its undergraduate population.
Dr. Dyan Jones, associate provost for institutional effectiveness, and Dr. Heidi Hosey, dean of global programs, guided the study.  Using the portfolio, assessment, and reporting systems in Campus Labs' Chalk & Wire platform, they are able to measure students' growth in integrating the Mercy Mission in their lives and its principles in their practices.
"We are delighted that Mercyhurst has been chosen for the Trailblazer Award," Jones said. "This award will help to reaffirm for our community that we are not only teaching about our mission, but also doing good work in the area of mission assessment practices that can be translatable to other institutions."