Mercyhurst produces four Olympians for 2018 Games
Monday, January 22, 2018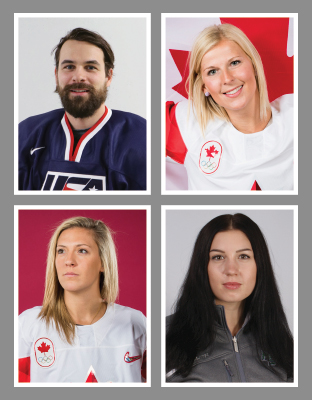 First, there was Meghan Agosta, then came Bailey Bram, and soon after Ryan Zapolski. Today, they were joined by Emma Nuutinen. Four 2018 Olympians –
all with one thing in common: Mercyhurst University.
Erie's own Ryan Zapolski, a graduate of Cathedral Prep and Mercyhurst University, where he was a standout goalie for Mercyhurst's Division 1 men's ice hockey team, is the anticipated starting goaltender for Team USA in the 2018 Winter Olympics in Pyeongchang, South Korea, beginning Feb. 8.
Alumnae Agosta and Bram, who began their NCAA careers playing Division 1 women's ice hockey for the Lakers, are representing their native Canada at the 2018 Games. Current Laker Nuutinen has earned a position with her home country's team of Finland. Mercyhurst nearly had five Olympians this year with the Lakers' second highest scorer, Vilma Tanskanen, in contention for the Finnish team. After participating in the last Olympic Games in 2014, she narrowly missed the final roster but received an offer as first alternate.
Few universities of like size – total enrollment around 3,500 – can claim one Olympian in a season, let alone four. So, what's the secret?
Mercyhurst President Michael Victor puts it at the coaches' door: Rick Gotkin's tenure spans 30 years as men's coach; Mike Sisti is in his 25th year at Mercyhurst and 19th leading the women's program. They are distinguished as charismatic, effective coaches with staying power. Despite offers to lure them away, some exceedingly lucrative, they remain as integral a part of the Mercy tradition as anyone or anything, short of the founding Sisters themselves.
"Rick and Mike have built a championship culture," said Victor. "I think it goes without saying that their decades-long leadership is at the heart of a winning tradition here at Mercyhurst."
Upon learning of Zapolski's good fortune, Coach Gotkin said, "I'm really proud and excited for Ryan and his family. He's an unbelievably deserving guy who has worked hard his whole life to get to this point. I think it's also a tribute to Mercyhurst and the kind of student-athletes we produce here."
Gotkin is the only coach in NCAA history to take the same program to the NCAA Tournament at all three levels: Divisions III, II and I. In addition, his 30-year tenure as head coach of the Mercyhurst men is the longest of any head coach in Division 1 hockey.
He has guided the Lakers to 530 wins, six NCAA tournament appearances and five league championships. His teams have averaged 18 wins a season and have made the postseason in 29 of the 30 years he has been at Mercyhurst. 
In 19 years, Sisti has turned a small-college women's hockey program into one of Division 1's premier powers. The Lakers have won 454 games, placing Sisti second only to Harvard Coach Katey Stone among active D-1 coaches. Last year was the first time the Lakers did not capture their league title after 16 straight conference titles. They made 10 consecutive trips to the national tournament, and a total of 11 in 12 years.
Sisti recruited and coached Meghan Agosta, who became a four-time All-American while at Mercyhurst, the leading scorer in Division 1 women's hockey history, a three-time Olympic gold medalist for Team Canada, and hockey MVP of the 2010 Vancouver Olympic Games.
"We started the women's program from scratch, and for us to be playing universities like Syracuse, Ohio State, Penn State and Ivy League schools like Yale – and in most cases being extremely successful – is amazing for a school of our size," Sisti said. "Plus, we attract some of the best student-athletes in the world who have some of the highest GPAs and SAT scores among the student body. All these things tie in so that our reputation speaks for us."
Both Sisti and Gotkin have put Erie on the map as a hockey destination, playing host to the NCAA Women's Frozen Four in 2011, pegged to host the same in 2021, and this October welcoming the 2018 Ice Breaker Tournament, one of the premier NCAA Division 1 men's ice hockey tournaments in the nation.
At a Glance …
Ryan Zapolski, 31, played for Mercyhurst from 2007-2011. During his time as a Laker, he was named to the 2008-09 All-Atlantic Hockey Association Second Team and the 2009-10 All-AHA Third Team. Zapolski appeared in 109 games for the Lakers, putting up a season-best goals-against average of 2.22 and save percentage of .934 during his sophomore year. He is currently a member of Jokerit of the Kontinental Hockey League. So far, this season, he has a 21-8-3 record in 32 games while compiling a 1.68 GAA and .935 save percentage. Zapolski was previously named to the U.S. Select Team in 2013, 2015 and 2017. He graduated from Mercyhurst in 2011 with a Bachelor of Arts degree in Biology. (See Zapolski's complete bio and stats here.)
Meghan Agosta, 30, who played at Mercyhurst from 2006-2011, and Bailey Bram, 27, who played from 2008-2012, were both chosen to represent Team Canada. Agosta will seek her fourth gold medal in as many Olympic appearances. She helped Team Canada win gold medals in 2006, 2010 and 2014. She is the lone player remaining on the Canadian roster to have played in the 2006 Turin games. At Mercyhurst, Agosta became a four-time All-American and the leading scorer in Division 1 women's hockey history. She served two seasons as team captain, was a four-time top-three finalist for the Patty Kazmaier Award for the NCAA's top women's hockey player, was named CHA Player of the Year, CHA Rookie of the Year, First Team All-American, and many more honors, including helping Mercyhurst reach the championship game of the NCAA Frozen Four in 2009. She earned a Bachelor of Arts degree in Criminal Justice and is a police officer in Vancouver, British Columbia, Canada. (See Agosta's complete bio here.)
Bailey Bram qualifies for her first Olympic Games after narrowly missing the final roster for the 2014 Olympics in Sochi, Russia. She has earned multiple gold and silver medals playing with Canada's National Women's Team in recent years. While at Mercyhurst, she was a leading scorer, a Patty Kazmaier Award nominee, CHA Rookie of the Year and named to the CHA First All-Star Team. She also helped the Lakers advance to the championship game of the NCAA Frozen Four in 2009. She graduated in 2012 with a Bachelor of Arts degree in Business. Interestingly enough, while at Mercyhurst Bram assisted on Agosta's 151st career goal. The goal made Agosta the all-time leading goal scorer in NCAA history. (See Bram's complete bio here.)
Emma Nuutinen, 21, was selected from Finland's Women's National Ice Hockey Team for the 2014 Winter Olympics, playing in all six games and scoring one goal. She made three appearances for the Finland Women's National Under-18 Team at the IIHF World Women's U18 Championships. In 2013, she was named to the media all-star team as one of the top forwards in the tournament. Nuutinen is new to Mercyhurst this year, having transferred from the University of North Dakota after it dropped its women's hockey program last year. So far this season, she has scored four goals and three assists for seven points. (Finland announced its Olympic team on 1/22/2018. Complete bio to come.)
PHOTO: (Clockwise top left) Zapolski, Bram, Nuutinen, Agosta