Mercyhurst presents one-woman play on life of Sister Joan Chittister
Thursday April 11, 2019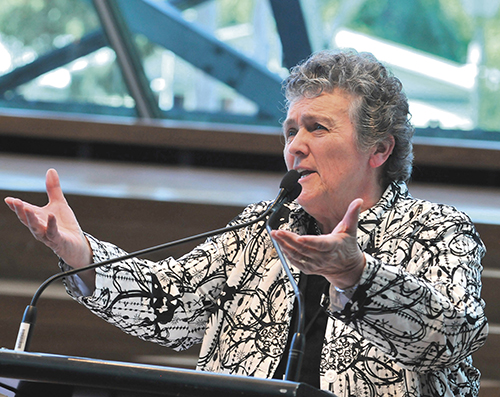 A compelling play that explores the life and teachings of Joan Chittister, OSB, comes to Mercyhurst University this spring as the latest installment of the university's Joan D. Chittister Lecture Series.
Joan Chittister: Her Story, My Story, Our Story will be presented Friday, May 3, at 7 p.m. in the Mary D'Angelo Performing Arts Center.
Created and performed by Teri Bays, it delves deeply into how Chittister's upbringing shaped the woman who has become an internationally recognized advocate for justice, peace and equality. Chittister herself will take the stage after the performance to reflect on the play's message.
Bays plays both herself and Chittister in the play, telling Chittister's story through scenes and dialogues, actual letters, and excerpts from her books and speeches. As herself, she reveals how similar themes have played out in her own experiences.
Said Bays, "The one-woman play portrays two women to tell the story of all women overcoming adversity and abuse. As the play progresses Joan addresses justice themes about life, women, interfaith, and spirituality." Bays has performed the play for audiences around the country since 2015.
The play is free and open to the public, but tickets are required. They will be available beginning Monday, April 22, at noon from the box office of the performing arts center. There is a two-ticket limit; tickets will not be mailed or held. The box office is open Monday-Friday from noon to 5 p.m.
A free-will offering will be accepted after the performance to benefit the Joan Chittister Fund for Prisoners and the House of Mercy.
Joan Chittister, OSB, one of the most influential religious and social leaders of our time, is a Mercyhurst graduate who later earned a master's degree from the University of Notre Dame and a doctorate from Penn State University. Penn State University is the primary site of her literary archive collection.
For more than 40 years she has passionately advocated on behalf of peace, human rights, women's issues, and church renewal. A much sought-after speaker, counselor and clear voice that bridges across all religions, she is also a best-selling author of more than 50 books, hundreds of articles, and an online column for the National Catholic Reporter. Two new books were released in March: The Time Is Now: a call for uncommon courage (Random House) and What Are Your Looking For?: seeking the God who is seeking you (Paulist Press).
Joan Chittister serves as co-chair of the Global Peace Initiative of Women, a partner organization of the U.N., facilitating a worldwide network of women peace builders. She served as president of the Leadership Conference of Women Religious, an organization of the leaders of Catholic religious women in the US; as president of the Conference of American Benedictine Prioresses; and as prioress of the Benedictine Sisters of Erie for 12 years. Joan Chittister is executive director of Benetvision, a resource and research center for contemporary spirituality, and the founder and animator of Monasteries of the Heart, a web-based movement sharing Benedictine spirituality with contemporary seekers.
Visit joanchittister.org for updates on Chittister's activities.
Teri Fiorito Bays, singer, writer and actress, is a graduate of the Hartt School of Music in Connecticut. She has performed leading roles in summer stock, off-Broadway musicals and New York City cabarets. Teri has served as Director of Music and Liturgy at several parishes during her nearly 40 years of ministry. She has recorded two CDs: Spark of Creation and Sacred Songs, Sacred Space, and has written a book: Through Stained Glass: the priests of my life. Teri and her husband, Dr. Bob Bays, live in Sedona, Arizona.
Learn more at teribays.com.
About the Chittister Lecture Series:
Mercyhurst's Joan D. Chittister Lecture Series began in 2014, when Mercyhurst also dedicated the Helen Boyle Memorial Archive in Honor of Joan D. Chittister, OSB, in Hammermill Library. The archive space at Mercyhurst and the lecture series have been endowed by the Boyle Family in honor of Helen Loebelenz Boyle, Mercyhurst Class of 1934, a longtime friend of Sister Joan.
Prize-winning journalist Tom Roberts, author of the biography Joan Chittister: Her Journey from Certainty to Faith, presented the inaugural lecture in conjunction with the dedication.
The lecture series also presented author, journalist and former California First Lady Maria Shriver in 2015 and acclaimed political commentator and author Cokie Roberts in 2017. Both women joined Chittister "In Conversation."