Mercyhurst premieres 'This Business of Autism'
Thursday, October 04, 2018
Mercyhurst University will roll out the red carpet for the official college premiere of This Business of Autism, a documentary film about the economic and societal benefits of employing young adults with autism, on Thursday, Oct. 18. The film includes guest appearances by Mercyhurst President Michael Victor (below left); Brad McGarry (below right), director of the Autism Initiative at Mercyhurst (AIM); and AIM student Norm Mingolelli. The public is invited to attend the free screening at 6 p.m. in the Mary D'Angelo Performing Arts Center. A question-and-answer session will follow.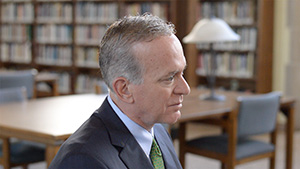 View film trailer featuring President Michael Victor here.
Prior to the screening, Mercyhurst will host an invitation-only reception in honor of its AIM students and welcome the film's producer, Stephen Mackey of Mesh Omnimedia. Mackey will join President Victor in introducing the film, which made its debut at a number of recent film festivals and two world premieres, one in Long Island and the other in northern Virginia. Mackey is calling the Mercyhurst screening his "college premiere."
 While much of the film explores the positive influences of Spectrum Designs, a custom screen-printing and embroidery business in New York where 75 percent of the employees are on the autism spectrum, Mackey came to Mercyhurst to learn more about its pioneering AIM program. Besides interviews with Victor, McGarry and Mingolelli, the film features 14 AIM students in all.
Dr. Temple Grandin, a legend in the autism community who was a headliner at Mercyhurst's 2016 Conference on Autism in Higher Education, makes a special guest appearance in the documentary as do New York State Senator Elaine Phillips, former New York State Senator Jack Martins, Nassau County DA Madeline Singas, Town of North Hempstead Supervisor Judi Bosworth, and former California Director of Employment Development Michael Bernick.
AIM was founded in 2008 to meet the unique needs of college students on the autism spectrum.
Having achieved considerable success in graduating students from the program, the university soon found that many of them still could not gain employment. McGarry said unemployment rates for adults on the spectrum hover around 85 percent nationally. "It's not enough to prepare these students academically for the world of work," he said. "We have to make sure they're employable after graduation."
So, in 2014, AIM launched a Career Path Program. Now, starting with their very first semester on campus, AIM students are actively preparing for employment through vocational skills development, job shadowing, internships and paid employment.
McGarry said Mackey was so interested in the Career Path aspect of the AIM program that not only did he visit the Mercyhurst campus to meet the students and conduct interviews last fall, but he sent a production crew to New York City to follow students on an immersion experience where they toured companies, participated in mock interviews and were introduced to potential job opportunities.
Learn more about the Autism Initiative at Mercyhurst here.