Mercyhurst political analyst Joe Morris talks Trump on 'Matter of Fact with Soledad O'Brien'
Thursday, June 13, 2019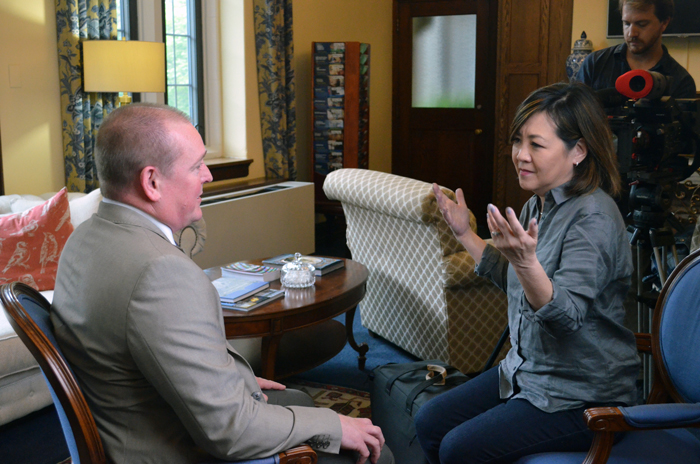 Victories in three Democratic-leaning Great Lakes states – Wisconsin, Michigan, and Pennsylvania – were key to President Donald Trump winning the White House in 2016. Will history repeat itself in 2020? These days, that's the question on the minds of everyone from pundits to prognosticators.
Well-known Erie political analyst Dr. Joe Morris, director of the Mercyhurst University Center for Applied Politics (MCAP), recently shared his insights on the local political climate with award-winning reporter Joie Chen, who now heads Northwestern University's Medill Programs in Washington, D.C. Chen was on special assignment in Erie on Thursday, June 13, preparing a news story for another celebrated journalist, Soledad O'Brien, and her acclaimed political magazine program "Matter of Fact," which airs Sundays at 10:30 a.m. on WJET-TV. 
Chen was drawn to Morris upon learning of the university's public opinion polling, specifically a series of MCAP polls on Erie County's evolving perception of Donald Trump over the course of his presidency.
"History suggests that voters' perceptions of a president's job performance are important for predicting the outcome of presidential elections," Morris said following the release of MCAP's third of five installments in March. "Although no single variable can be used to accurately predict the outcome of all presidential elections, in nearly every election since the middle of the 20th century, incumbent candidates for President of the United States who had a national approval rating of 49% or higher at the time of the election won reelection."
According to MCAP's most recent poll, registered voters in Erie County gave the president poor marks for his job performance. Only 35% of voters approved of the job he is doing as president, while a majority (55%) said they disapprove. These numbers contrast sharply with those obtained in a MCAP poll conducted in February 2017, which found 41% approving and 49% disapproving of his job performance; the numbers are relatively unchanged from October 2017 when an MCAP poll found 32% approving and 55% disapproving.
On the flip side, Morris noted, voters' perceptions of the economy may be cause for confidence. For the first time since the 2016 election, a solid majority (59%) of Erie County voters described the state of the nation's economy as either "excellent" (7%) or "good" (51%) as opposed to "not so good" (31%) or "poor" (9%). Voters' perceptions of Erie County's economy were also positive. Today, voters see their families' financial situations, the availability of jobs, and the overall state of the Erie County economy as more positive than they were in February and October of 2017. In addition, half of all voters approve of the way Donald Trump is handling national defense and terrorism. Chen said "Matter of Fact" is an issues-driven series and she is eager to convey the discourse emanating from Erie.
Meanwhile, Emerson Coleman, vice president of programming at Hearst Television, said, "The show has blazed a trail with a distinctive format offering a successful blend of high-profile political guests and fresh faces from the worlds of academia, community service, journalism, science and other fields." Hearst Television reports that the show is now available to 90% of U.S. viewers, including all of the top 20 TV markets. 
The segment including Morris is expected to air locally on the Sunday, June 23, edition of "Matter of Fact."