Mercyhurst partners with City of Erie on police testing
Thursday, March 22, 2018
Mayor Joe Schember announced that the City of Erie will contract with Mercyhurst University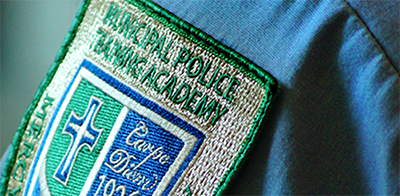 to conduct Civil Service Act 120 testing for the Erie Bureau of Police starting immediately. He made the announcement during his regularly scheduled Thursday morning press conference. Bill Hale, who directs the Municipal Police Training Academy at Mercyhurst, also spoke about the partnership.
"We're proud to partner with Mercyhurst to administer testing for new police candidates. Ultimately, the city will save time and money that can be used to focus on minority recruitment," said Schember.
Instead of taking a separate exam for the City of Erie, Hale said that candidates can now take one exam that qualifies for 26 police departments throughout the region.
"This will give us access to more diverse applicants each year instead of our former testing process at the city which happened every two years," said Schember.
Once testing is completed, the results will be forwarded to the city's human resources office, which will draft a final ranking for candidates.
The City of Erie joins other regional municipalities on the Northwest Pennsylvania Regional Police Testing Consortium, which already includes police departments in Millcreek, Meadville and Corry to name a few.