Mercyhurst Olympian Meghan Agosta of Team Canada: Going for Gold . . . Again
Wednesday, January 24, 2018
One would be hard-pressed not to think that Mercyhurst University's three-time Olympic Gold Medalist Meghan Agosta has led a charmed life.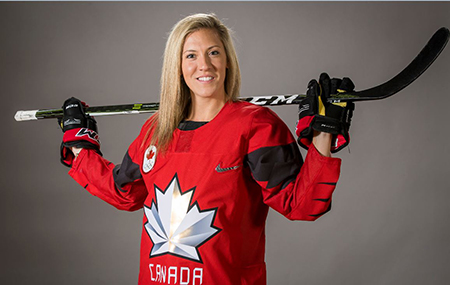 Everything she touches seems to turn to gold.
At Mercyhurst, the Canadian hockey forward (2006-2011) was the stuff of legends: a four-time All-American who finished her NCAA career as the leading scorer in Division 1 women's hockey history. Come February, she'll join Team Canada in pursuit of her fourth Gold Medal at the 2018 Olympic Games in Pyeongchang, South Korea.
Add to that scenario the fact that she has experienced the rare opportunity of fulfilling both of her life's passions: ice hockey and police work. She earned a bachelor's degree in Criminal Justice from Mercyhurst and is a constable with the Vancouver Police Department.
"I get chills just thinking about it," she said in a phone interview from Team Canada's headquarters in Calgary. "I wouldn't change my life for anything."
She's excited to be joined on the 2018 team by fellow Laker Bailey Bram who, interestingly enough, assisted on Agosta's 151st career goal at Mercyhurst, making Agosta the all-time leading goal scorer in NCAA history.
Upon learning of Bram's good fortune, she said she sent a note to Mercyhurst Women's Ice Hockey Coach Mike Sisti saying: "Move over, Meghan Agosta. Bailey Bram is in the house!"
"I'm very excited for her," Agosta said. "She's played her role to a T. We've grown to be good friends and we make the shout-outs to Mercyhurst."
Agosta's alma mater is never far from her heart. "That education, those friendships, the memories, the journey … it all meant so much," she said. "The staff, teachers, their support and understanding … It meant everything to me and really to all the other athletes."
While balancing academics and athletics at Mercyhurst was tough, balancing Olympic prep and working full time as a police officer isn't exactly a cakewalk. Agosta squeezes in gym and ice time whenever she can. Since there is no women's hockey program in Vancouver, she plays on the Valley West Hawks men's team in the British Columbia Major Midget League and the Vancouver Police Men's Hockey Team.
Currently, she is on a one-year leave of absence from the police force as she trains with Team Canada in Calgary. There's another blessing, she said, in that both Team Canada and the Vancouver PD support her desire to pursue both passions and make the respective accommodations.
"It has been great to see everything she has accomplished on and off the ice. I think everything she has learned and gone through to this point in life has her playing some of her best hockey ever and she looks extremely determined heading into her 4th Olympic Games."   
- Coach Mike Sisti
Looking forward, she said she's as enthusiastic about her fourth go-round at the Olympics as she was her first. "The Olympics never get old," she said. "It's always a new journey."
At Pyeongchang, she said, she expects to take on the kind of leadership role she did in the previous two Olympic Games, in particular, building the confidence of the newer Olympians. As for herself, she realizes she hasn't had the intensive ice time that others may have had, but she believes in herself. "I know my God-given talents and abilities and think I've gotten better over this past year. I'm faster and stronger and have a lot more to give."
So much to give, she said, that she isn't calling this her last Olympics, although she'll turn 31 during the Games.  "I want to inspire the younger generation to do something special with their lives," she said, promising to continue the pursuit of her passions for as long as she can.
(See complete bio here.)