Mercyhurst Olympian Bailey Bram: Her time has come
Thursday, January 25, 2018
Bailey Bram, a member of the Canadian National Women's Hockey Team,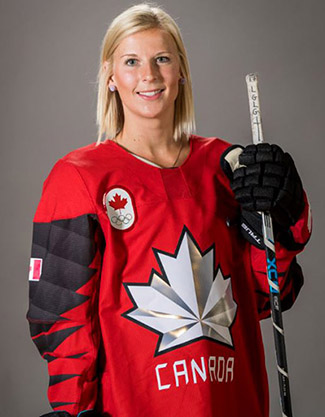 could easily have been lost in the shuffle as one of Bill and Bonnie Bram's eight children. But dad wouldn't have it. As head coach of the Eastman Female Selects AA team in Landmark, Manitoba, he had an eye for talent, and he wasn't about to let his own kids escape his discerning gaze.
Ultimately all but one of them would play the game, making the Brams one of the most famous hockey families in Manitoba. Bailey and her sister Shelby played for Mercyhurst University.
Playing for Team Canada in the 2018 Winter Olympics next month in Pyeongchang, South Korea, is as glorious a reality as any dream could be for Bram. To coin a phrase, "Good things come to those who wait."
She remembers sitting in the hallway of Team Canada's headquarters four years ago, waiting to hear if she had made the roster for the 2014 Olympic Games in Sochi, Russia, only to learn she was out, the very last player cut.
It was devastating. She took comfort in the support of her family, and then went off to play hockey in Sweden. "I needed to get away and heal," she said. She also needed to do some real soul searching on what to do next with her life. Ultimately, she decided to stick with hockey and try again for the Olympics.
Fast-forward four years, waiting for the 2018 roster to be called: same place, same hope, same sick-to-your-stomach feeling. "I couldn't even breathe," said Bram.
And then the verdict: Bailey Bram was IN!
"There were tears, lots of tears," said the 27-year-old. "But I knew I was stronger mentally and physically this time around."
She also is pumped about playing alongside fellow Laker Meghan Agosta. "When I started at Mercyhurst, I had no idea what I wanted to do," said Bram, who ultimately earned a degree in Marketing. "Meghan was always someone I looked up to. I learned a lot from her … and from Coach (Mike) Sisti. He made me accountable."
In a sense, he continued the legacy of her father, who instilled in her a strong work ethic.
"We had an outdoor rink in our yard and every time we finished, he would make us shoot 100 pucks or take laps around the rink," Bram recalled. As siblings, she added, "We pushed each other and made each other better."  
"After the heartbreak of the last Olympics, Bailey has shown tremendous guts and perseverance to become an Olympian. She constantly improved in her time with us and evolved into a dominating player while growing as a leader. Now she is a world-class player on center stage and we are excited for her to have this amazing opportunity."
- Coach Mike Sisti
Bram's family life and her Mercy education also inspired her commitment to service. In Canada, she volunteers for a group called Classroom Champions, whose purpose is to connect underserved students with world-class mentors. As a mentor, she creates classroom video lessons on topics like healthy living, diversity and goal-setting.
Part of her life's purpose, she said, is to inspire others, especially those who have been through hard times. After all, she knows how it feels - that agony of defeat. But, she also knows, there's always tomorrow. She is engaged. She just bought a new house. And, she's counting on the thrill of victory when she takes the ice for Team Canada in Pyeongchang.
(See Bram's full bio here.)