Mercyhurst offers full slate of summer camps
Wednesday, June 03, 2015
Mercyhurst University is taking its "hands-on experience guarantee" to local middle and high school students this summer with an assortment of camps.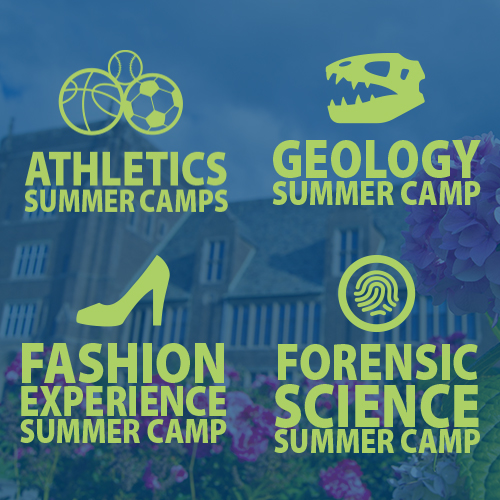 Students may choose from three academic and four athletic camps, all rich with practical experience opportunities.
Camps are as scheduled:
Academic Camps
July 13-17
Fashion Experience invites participants to explore the world of fashion through trendy, creative projects that will focus on fashion forecasting, visual merchandising and styling. The camp, which includes lunch, is geared toward students ages 14-18. The cost is $325. Daily sessions run from 9 a.m. to 3 p.m.
July 20-24
Participants ages 15-18 will find their inner investigators during the Forensic Science Summer Camp from 9 a.m. to 5 p.m. daily. Students will engage in blood splatter analysis, impression evidence and casting, fingerprinting and firearm/ballistic analysis. Camp cost is $350, which includes program materials, a t-shirt and lunch.
July 27-31
The Geology Summer Camp is not just about rocks; this camp will lead students in grades 6 through 12 on many adventures, including the exploration of fossils, a trip to the Carnegie Museum of Natural History in Pittsburgh, and field exploration of local sites in New York and Pennsylvania. Transportation and lunch are included in this camp, which costs $250, and runs from 9 a.m. to 5 p.m. each day.
Athletic Camps
June 15-19
New men's soccer head coach Nenad Vidakovic will lead this camp for young men with a passion for soccer. Cost is $130. Sessions run from 5 to 9 p.m. each day.
June 22-25
The Boy's Lacrosse Summer Camp runs from 9 a.m. to 4 p.m. daily and costs $225 without lunch or $250 with lunch. Each participant gets his own pinnie.
June 29-July 1
July 6-8
Interested in baseball or softball? The Combined Youth Camp invites both young men and women to come play ball. The camp runs from 9 a.m. to 12:30 p.m. and is  $80 per session.
August 3-8
Young men can sign up for the 27th Annual Rick Gotkin Lakers Hockey School, which includes three sessions: Group 1 runs from 8-11 a.m.; Group 2 from 11:15 a.m. to 2:15 p.m.; and Group 3 from 2:30 to 5:30 p.m. The camp is held at the Mercyhurst Ice Center. Cost is $180 if paid in full by July 18, and $200 if paid after the deadline. Pinnies are included.