Mercyhurst names top award recipients for 91st Commencement
Wednesday, May 08, 2019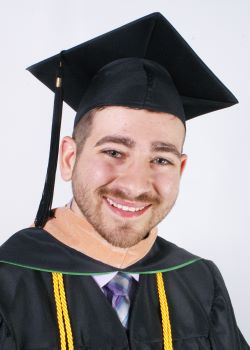 When Mercyhurst University holds its 91st Commencement on Sunday, May 12, Vincent Marrazzo and Douglas Altavilla will receive the university's top undergraduate awards: The Carpe Diem Award and the Bishop's Award for Academic Excellence, respectively.
Marrazzo, who has served as an Ambassador and been part of Mercyhurst Student Government (MSG) for four year, including this year as president, was chosen as the graduating senior who most embodies the Carpe Diem spirit.
Marrazzo completed the rigorous Mercyhurst Honors Program and is graduating summa cum laude with three majors: Intelligence Studies, Information Technology, and an interdisciplinary major he designed himself titled Religion, Diplomacy and International Relations.
As MSG president, he held a seat on the university's Board of Trustees, serving on four Trustee committees and making sure the student voice was always heard. Even as his time on campus wound down, he still found time to complete a 4th Vow Retreat and to organize a reception for new American citizens.  
He will attend law school at the University of Notre Dame in the fall, and hopes eventually to work in the field of cyber law.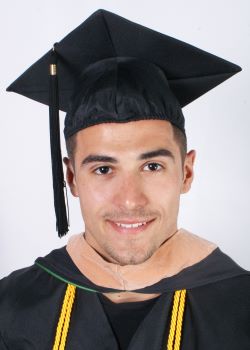 Altavilla is the epitome of a Mercyhurst student-athlete. He is graduating with a perfect 4.0 GPA while also excelling as a three-year starting quarterback for the Laker football team. Besides the Bishop's Award, Altavilla is also the recipient of this year's Scholar-Athlete Award. The female Scholar-Athlete is Molly Bladen, who played ice hockey
(For more on athletic awards, please visit hurstathletics.com.)
Altavilla majored in Sports Medicine with a pre-medical concentration, and his performance in that department was so strong that faculty members chose him as a co-researcher on a groundbreaking project in collaboration with the National Institute for Occupational Safety and Health of the CDC. 
The research is designed to determine whether scientific evidence justifies the use of the pitch count for elite college baseball pitchers. Altavilla and his research partner, Sarah McDonnell, will present their results in July at the National Strength and Conditioning Association national convention in Washington, D.C.
With a year of athletic eligibility remaining, he intends to return to Mercyhurst in the fall to play football and earn his graduate degree in Organizational Leadership, and later attend medical school.
Other top senior awards go to Erin Jenkins (the Sister Carolyn Herrmann Service Award); Justin Hawkins (the Frank Barry Leadership Award); and Emily Pacer (the Mother Borgia Egan Honors Award). Two adult undergraduate students will also receive top awards: Patrick Smith, the Catherine McAuley Adult Student Award, and Katherine Kapanick, the President's Award for Adult Excellence. 
Seniors chosen to receive the President's Award for Excellence by Mercyhurst's colleges are: Rose Pregler and Elizabeth Rathburn (Hafenmaier College of Humanities, Arts and Social Sciences); Margaret Hackney and Meghan Maker (Ridge College of Intelligence Studies and Applied Sciences); Morgan Stacey and Gabriella Macera (Walker College of Business); and Anna Warner and Angelea Belfiore (Zurn College of Natural and Health Sciences). 
Mercyhurst's master's degree programs have selected outstanding graduates to receive the Sister Eustace Taylor Graduate Student Awards for 2019: Thomas King (Applied Intelligence), Jenny Sabliov (Criminal Justice Administration), Ron Richardson (Data Science), Jennifer Webb (Forensic & Biological Anthropology), Kristen Cameron (Organizational Leadership), Nicholas Smith (Physician Assistant Studies), Shernee Bellamy (Secondary Education: Pedagogy and Practice), and Megan Teall (Special Education and Applied Disability Studies).
All told, Mercyhurst will celebrate 852 graduates: 534 bachelor's degree and 141 master's degree candidates from the Erie campus for a total of 675; and 177 associate degree candidates at North East. Erie students graduate at 2 p.m. Sunday at the Erie Insurance Arena. MNE students will process Saturday at 3 p.m. in Ligouri Fieldhouse.