Mercyhurst names Joe NeCastro board chair
Tuesday, October 16, 2018
Joseph G. NeCastro, a member of the Mercyhurst University Board of Trustees since 2011,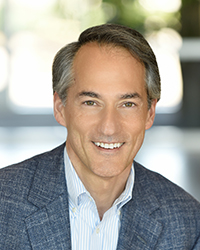 has been named board chair succeeding Richard A. Lanzillo, who resigned Oct. 13 following his appointment as Magistrate Judge of the U.S. District Court, Western District of Pennsylvania. Lanzillo served on the board for 16 years.
Both Lanzillo and NeCastro are dedicated Mercyhurst alumni who have worked side by side as chair and vice chair, respectively, for a number of years, a circumstance that will forge a seamless transition in leadership, said Mercyhurst President Michael T. Victor in making the announcement.
NeCastro, meanwhile, retired in 2016 from Scripps Networks Interactive (SNI), capping a career of nearly four decades in senior financial management with a variety of media and telecommunications companies. Earlier this year, he was named chair of the Board of Directors for the Erie Innovation District, a Mercyhurst-led effort to transform downtown Erie into a destination for digital-economy jobs, particularly in the robust fields of cyber security and data science.
While at SNI, NeCastro served as chief development officer, directing all international operations and investments of the company. He led the 2015 acquisition of TVN, the leading media company in Poland, and served as chairman of the board for both TVN and UKTV, one of the leading media companies in the UK market.
He previously served the E. W. Scripps Company as chief financial officer from 2002 to 2008, when he led the spinoff of the company's cable television networks and online assets and the initial public offering for Scripps Networks Interactive. He was chief financial and administrative officer for SNI, which owned lifestyle cable channels including The Food Network, HGTV, Travel Channel and DIY Network. 
Before joining Scripps, NeCastro was chief financial officer of Penton Media, an information services and marketing company, from 1998 to 2002. During his tenure there, he executed Penton's spinoff and initial public offering and completed more than 20 acquisitions and relating financing.
He held a number of positions with Reader's Digest Association Inc. from 1993 to 1998, finally serving as chief financial officer for RDUSA, a $1.1 billion U.S. operating company, where he led major initiatives in strategic planning, value-based management, and inventory management.
After beginning his career as an accountant, NeCastro also held senior financial management positions with Comsat Corporation, MCI Communications Corporation and U.S. News & World Report.
He earned his B.A. in accounting from Mercyhurst College (now Mercyhurst University) and an MBA with a concentration in finance and operations management from Harvard Business School.