Mercyhurst names Jim Snyder 2019 Teaching Excellence Award recipient
Tuesday, April 23, 2019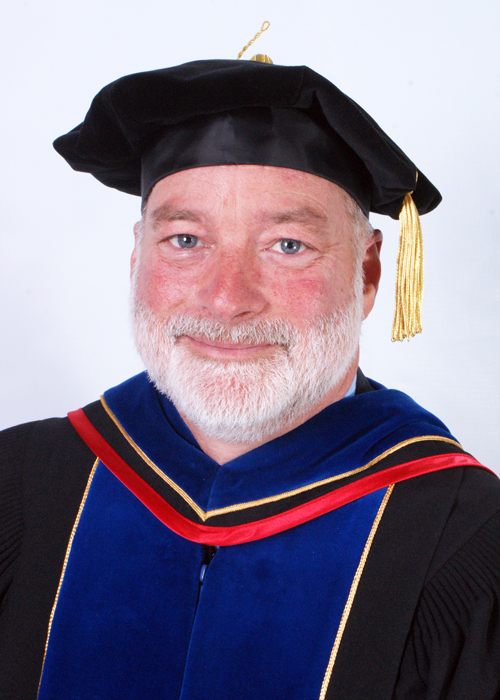 Calling him a "teacher in the model of the best," Mercyhurst University has chosen Philosophy Department Chair James Snyder, Ph.D., as the 2019 recipient of its Teaching Excellence Award.
"A long- serving Philosophy professor at Mercyhurst, Dr. Snyder is an excellent professor and scholar," said Christina Riley Brown, Ph.D., dean of the Hafenmaier College of Humanities, Arts and Social Sciences. "He has a sustained commitment to teaching classics in a manner designed to develop the knowledge, skills, and values to promote a quality of life that is individually enriching and socially beneficial." 
"Jim is a master of his discipline," added colleague Mary Hembrow-Snyder, Ph.D. "He works tirelessly to communicate profound philosophical ideas, complex history, and contemporary challenges to his students. Methodologically he is very creative, using a variety of social media, music, art, poetry, theology, science, etc., to engage his students."
In addition to his creative and engaging manner of teaching, Snyder's colleagues say his productivity knows no bounds. He teaches and has created courses both for the liberal arts core curriculum and philosophy major, not to mention tutorials, interdisciplinary classes, Honors classes, and courses designed for Faculty-led Study Abroad Trips. 
His colleague, Alice Edwards, Ph.D., says, "Jim has an overwhelming record of service to Mercyhurst, serving as department chair; chair of Rank and Tenure, where he is a thorough and rigorous advocate for excellent teaching; as a member of the Administrator Evaluation Committee; the Core Curriculum Advisory Committee; the Honors Program Selection Committee; the Green Team; and many others." 
Snyder has contributed to a vast range of publications and presentations during his Mercyhurst career, which began in 2001. This summer, he will attend a prestigious Council of Independent Colleges seminar on the Ancient Greek Hero at Harvard University's Center for Hellenistic Studies, which is designed to increase and expand student engagement with the literature of ancient Greece.
A Pittsburgh native, Snyder earned his Bachelor of Arts in Philosophy from Slippery Rock University, and his master's and doctoral degrees in Philosophy from Duquesne University. He also studied in Belgium where he met his wife, Harriet Victor, a native of Sweden, who was studying there as well. He is fluent in several languages and enjoys traveling, gardening, and, most importantly, his family. He and Harriet have two sons, August, a Mercyhurst student, and Orion.
In response to being named this year's Teaching Excellence Award recipient, Snyder says, "To be given this honor by colleagues whom I hold in the highest esteem and respect is both humbling and deeply gratifying.  Even more rewarding for me, though, is having the opportunity to work daily with so many awe-inspiring people across the university who support and elevate everyone around them as we live and breathe the educational mission of the Sisters of Mercy.  
"Every day that goes by, I count my blessings for how fortunate I am to be doing what I love to do —teaching philosophy and empowering our students to pursue the path of wisdom, to think clearly and critically, and to place truth, beauty, and goodness above all else as we work together to build a more just and prosperous world. Being recognized for my teaching efforts and accomplishments in this endeavor is the greatest honor of my career."