Mercyhurst named PA's second Purple Heart University
Tuesday, October 23, 2018
Ask Amy Burniston and her three children who their hero is and they don't miss a beat: Daddy!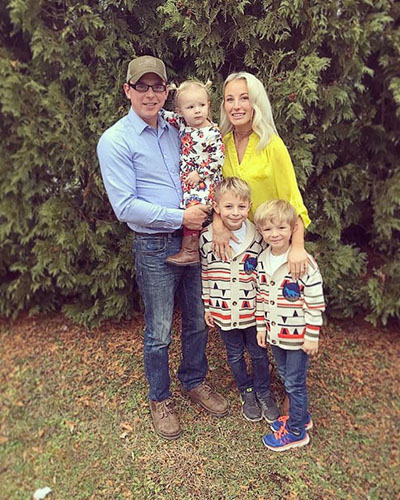 In fact, Daddy – or Ryan Burniston, as he is known to everyone else – is the impetus behind a movement at Mercyhurst that has resulted in its designation as a Purple Heart University, making it only the second college in Pennsylvania to receive the honor from the Military Order of the Purple Heart (MOPH).
The award recognizes Mercyhurst as emblematic of MOPH's primary goal to provide services to veterans and their families; more specifically, veterans who were wounded in combat while serving their country and are now pursuing their higher education careers at Mercyhurst. Currently, Mercyhurst is home to one Purple Heart recipient: U.S. Army First Sergeant Cody Harrington, who has just been accepted in the university's Physicians Assistant Program.
Mercyhurst President Michael Victor will make the designation official at a ceremony on Wednesday, Nov. 7, at 1 p.m. in Mercy Heritage Room, kicking off a series of events on campus in celebration of Veterans Day Nov. 11.  (See related story.) Privileges for Purple Heart veterans are in the process of being developed.
Dr. Amy Burniston, meanwhile, is an assistant professor of biology/education at Mercyhurst; her husband, U.S. Marine Sergeant Ryan Burniston, is a three-time combat veteran and recipient of the Purple Heart. He received the esteemed military honor after being wounded in Iraq during a missile attack on Abu Ghraib in 2005. In 2006, he was deployed again to Iraq and, in 2009, to Afghanistan.
Ryan plans to attend the Nov. 7 ceremony, and it is also anticipated that the only Purple Heart veteran in residence at the Pennsylvania Soldiers and Sailors Home, Duane Fugate, will be there, along with local Purple Heart veterans Bob Hill, commander of the Erie chapter of the MOPH, and chapter representatives Dave Price and Terry Fabry. At least five more honorees are expected.
Meanwhile, Ryan Burniston doesn't talk too much about his service; his family does enough of that for him. Sons William, 7, and Samuel, 6, are eager to point out the photos of their dad in uniform around the house; they also keep the military-themed Christmas ornaments they receive each year from MOPH in their bedroom year-round. Two-year-old Lucinda will no doubt follow suit. 
"My husband doesn't like to draw much attention to himself, but I'm so proud of his service and I think it's important that our college community, particularly our students who may not have any connection to the military, understand and appreciate the sacrifice of all our veterans, especially those who have been wounded or have made the ultimate sacrifice. In becoming a PH institution, we are ultimately saying to our community that Mercyhurst University holds our veterans in the highest regard," said Amy, who planted the seed earlier this year that Mercyhurst seek designation as a Purple Heart University. The only other university so recognized in Pennsylvania is St. Joseph University in Philadelphia.
Mercyhurst has long been known as a military-friendly school, and is home to 54 student-veterans, 12 with combat deployments, as well as an active Army ROTC program, so Burniston's suggestion gained an eager following. Mercyhurst found it easily met the criteria, such as having a veterans' center on campus, providing a support liaison and other auxiliary resources for veterans, and offering priority registration for classes. Outside of Cody Harrington, 2017 graduate Jason Sargent, a medical student at the Mayo Clinic School of Medicine, is believed to be among Mercyhurst's most recent Purple Heart recipients.
"Mercyhurst is honored to be recognized as a Purple Heart University," Victor said. "We have always prided ourselves in being a military-friendly school, both in terms of supporting those veterans attending classes on our campus as well as those enrolled in our online programs. We owe our freedom to our nation's veterans and we are pleased to have one more opportunity to show them our gratitude for their service."
The Purple Heart is the nation's oldest military award, introduced as the "Badge of Military Merit" by Gen. George Washington in 1782. It is one of the most respected medals that U.S. military members can receive.
Mercyhurst joins 91 colleges and universities nationwide to receive the designation.
For more information on Veterans at Mercyhurst, visit here.