Mercyhurst named 'Lead Partner' at Diehl Elementary School
Friday, March 15, 2019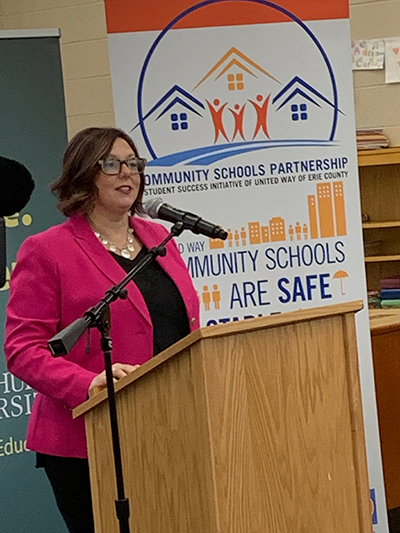 Mercyhurst University is partnering with the United Way of Erie County and Erie's Public Schools as "Lead Partner" in the Community Schools initiative at John Diehl Elementary School. The announcement was made at a 10 a.m. news conference Friday, March 15, at Diehl School, 2327 Fairmont Parkway.
The Community Schools model is a strategy launched in 2016 by the United Way to incorporate a wide range of resources in Erie schools to support students and their families. A Community School is both a place and set of partnerships that help address health, wellness and the social needs of its students, families and the surrounding neighborhood. Schools become centers of the community, open to everyone, all day, every day, evenings and weekends.
Diehl School was named a Community School last November, supported by a coalition of corporate partners that provide financial support, volunteer engagement, professional and in-kind services. As Lead Partner, Mercyhurst will coordinate the community resources and organize educational events at Diehl, from financial literacy workshops to arts and enrichment activities.
"John Diehl Elementary is an ideal school to benefit from the Community Schools initiative as it has a large immigrant population with involved parents," said Dr. Christina Riley Brown, dean of the Hafenmaier College of Humanities, Arts and Social Sciences at Mercyhurst. She said the next step is to hire a Community School Director, who should be in place by May. A job description can be found on Mercyhurst's website.
The Mercyhurst education department is home to a number of productive partnerships with Erie's Public Schools, including the award-winning Carpe Diem Academy and autism support classrooms. Earlier this month, the university and the Erie City School District received a PAsmart Grant of $500,000 to develop an integrated K-12 computer science curriculum that will prepare students for in-demand careers in the digital economy.
"Consistent with our Mercy mission, Mercyhurst is committed to supporting Erie's Public Schools and we look forward to working with Diehl's corporate partners to create pathways for students to achieve success," said Mercyhurst President Michael T. Victor.
Corporate partners include Accudyn Products Inc., American Tinning and Galvanizing, Custom Engineering, Lincoln Recycling, McInnes Rolled Rings, Reddog Industries, Inc., Smith Provision Company, Inc., and Team Hardinger.
Besides Riley Brown, key Mercyhurst stakeholders in the project include Provost Leanne Roberts, Community Engagement Director Colin Hurley, Education Department Chair Dr. Susan Johnson and Program Director Amy Bauschard.