Mercyhurst named founding partner of 2030 District
Monday, February 11, 2019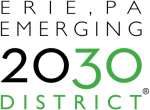 Building on the best elements of its own sustainability program, Mercyhurst University is joining forces with the Green Building Alliance to make widespread environmental improvements as founding partners of the Erie 2030 District.
The 2030 District is a national model whose partners seek to achieve a dramatic reduction in the energy consumption and greenhouse gas (GHG) emissions of the built environment; and, to advance the development of sustainable, resilient, equitable and carbon-neutral buildings and communities.
At the helm of the newly launched Erie 2030 District is Guy McUmber, director of Green Building Alliance's Northwest Pennsylvania Branch, who will provide an overview of the group's objectives during a founding partner recognition event on Feb. 25, at 2:30 p.m., in the fifth floor conference room of the Erie County Courthouse.
McUmber identified the founding members as:
        The City of Erie
        Erie County
        UPMC
        Benedictine Sisters of Erie
        Sisters of St. Joseph of Northwestern Pennsylvania
        Emmaus Ministries
        Erie City Mission
        First Presbyterian of the Covenant
        Mercyhurst University.

Mercyhurst Sustainability Director Sarah Bennett said Mercyhurst supports the district's efforts to bring economic resiliency and growth through energy, water, and transportation emission reductions.
Mercyhurst has made significant strides in recent years to minimize its own carbon footprint­­­­­­­­­­­­, including ­­­­­­­­­­­­­­­­­­LED lighting upgrades on the Erie and North East campuses, carbon REC and offset purchases, as well as purchasing Energy Star appliances for Ryan Hall, electric maintenance vehicles and lawn care equipment, and fuel-efficient vehicles for the university fleet.
Most recently, Bennett said, the university has been benchmarking electricity usage in its buildings in order to set a 2018 baseline for future comparison. Mercyhurst will also benchmark natural gas and water usage this year.
"Efforts to reduce electricity, natural gas, and water usage will reduce Mercyhurst's environmental impact but will also result in lower operational costs." Bennett said.
Following the partnership recognition event, the district will provide a free energy-efficiency workshop from 3 to 4 p.m. The court house was chosen because of the county's recent energy- and water-efficient upgrades.