Mercyhurst maritime history summer program wins accolades from PA Museums
Friday, February 22, 2019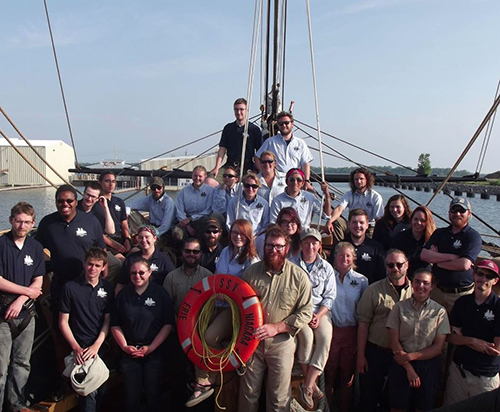 Mercyhurst University's Waves of the Past, Leaders of the Future three-week credit-bearing maritime history course aboard the U.S. Brig Niagara will be recognized for its ingenuity at the Pennsylvania Museums Annual Conference in April.
The institutional award for "special achievement" will be presented to Mercyhurst along with the Erie Maritime Museum and Flagship Niagara League in Chadds Ford, Pennsylvania, on April 8. Dr. Ben Scharff, chair of the Mercyhurst History Department and creator of the course, will represent the university at the annual conference and awards ceremony.
"It is an honor to have our history initiative recognized in this way," said Scharff. "Mercyhurst is all about making hands-on learning creative, rewarding and personally fulfilling. We think this course certainly is a testament to that."
Now in its third year, Scharff introduced the course in the summer of 2017 with seven Mercyhurst students; last year that number grew to 10 and he is optimistic that, in time, it will grow to include the maximum 20 participants. It is open to college-age students from around the country.
This year's course begins in mid-May and will last two-and-a-half weeks. Although their journey starts and ends in Erie, the students will voyage to major maritime museums and monuments of Lake Erie. Besides lessons in seamanship and maritime history, students will acquire a deeper understanding of the seafaring culture by living and working aboard the ship. They'll learn sailing terminology, physical skills, familiarity with the ship and the social structure of shipboard life.
The Niagara, reconstructed in 1988, is a replica of the square-rigged sailing warship that fought in the 1813 Battle of Lake Erie.
Mercyhurst senior Ella Santillano, who was among the original cohort, said, she'd "do it again in a heartbeat." Although rigorous and demanding, she said, "I loved sailing. I loved climbing in the rigging to set the sails, facing gravity and weather as I climbed higher than I thought I would. I loved seeing the different ports. I loved sleeping in the hammocks. I loved the midnight watch when I could see the stars, and standing lookout staring into the dark and feeling the deck roll beneath my feet…"
For more information about the course, contact Scharff at bscharff@mercyhurst.edu, or 814-824-2326.