Mercyhurst lends artistic flair to National Water Dance
Wednesday, March 28, 2018
Mercyhurst University dancers will lend their voices and dance moves in a national effort to preserve water resources on Saturday, April 14.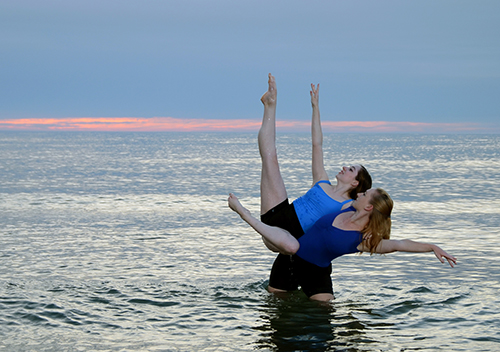 National Water Dance is a collaborative of dancers and educators who hope their event will inform and inspire both participants and audience members to take responsibility for conserving and protecting the water they use and enjoy. They are joined by numerous Mercyhurst and Erie community volunteers, serving to build community and inspire environmental stewardship through the art-making and performance process.
National Water Dance Erie takes on added significance due to the region's dependence on and proximity to Lake Erie. Amy Parente, Ph.D., associate professor of biochemistry at Mercyhurst, will deliver the keynote address to bring scientific research and awareness to important issues like water quality and preservation.
National Water Dance Erie: The Ripple Effect will begin at 4 p.m. with dance performances on Dobbins Landing at the foot of State Street.
A movement choir, improvisational saxophonist and Mercyhurst Ambassadors will lead a montage of dance, art, music, environmental exhibits, and activities along the waterfront. The performers will then process toward the Erie Maritime Museum and Blasco Library, where the program continues with educational presentations on water quality issues, additional artistic performances, children's activities and more in the (Erie Maritime Museum) Hirt Auditorium.
Parente will address local water concerns, highlighting the recent work on plastic pollution of Dr. Sherri Mason, professor of chemistry and chair of the Department of Geology & Environmental Sciences at SUNY-Fredonia. Parente will also discuss the creative inspiration for the event's performances, exhibits and activities.
In the case of inclement weather, all events will be held at the Erie Maritime Museum and adjacent Hirt Auditorium.
The Water Dance concept grew out of a 2011 event in Florida in which dancers, musicians and visual artists gathered at eight locations to bring attention to the power and fragility of Florida's waterways.
The event went national in 2014, drawing more than 1,200 dancers from 80 institutions in 26 states. Mercyhurst participated in National Water Dance in 2014 and 2016, along with a variety of local dance companies and environmental groups.
The artistic demonstrations and interactive exhibits along the performance pathway will periodically provide opportunities for audience members to become active participants throughout the event, underscoring a theme of collaboration essential to Water Dance's production.
"An event like this takes a village," said event coordinator Solveig Santillano, an associate professor of dance at Mercyhurst who has partnered with 20 collegiate departments and local organizations to produce the event. The Mercyhurst Dance Department, Performing Ensemble, National Honor Society for Dance Arts and Liturgical Dance Ensemble are all involved.
Among other Mercyhurst departments participating are:
Art. Professor Tom Hubert is contributing water-themed 3-D artwork created by students.

Chemistry. Amy Parente, Ph.D., will present her research into contaminants found in Presque Isle Bay.

Graphic Design. Students of Jodi Staniunas Hopper, art department chair, and Pete Stadtmueller, graphic design program director, are creating advocacy posters and infographs about water issues.

English. Jeff Roessner, Ph.D., has encouraged his students to write poetry exploring water issues.

Music. Nathan Hess, DMA, chair of the D'Angelo Department of Music, has mentored the work of saxophonist Kevin Timko as musical accompaniment for the procession to the Maritime Museum; flute soloist Isaiah Howard; vocalist Shelby Maberry, and a Mercyhurst Jazz Combo. Albert Glinsky, Ph.D., advised a composition student who submitted an original work titled Rain Trio.

Biology. Sarah Bennett, lecturer in biology and Mercyhurst Sustainability Coordinator, coordinated the participation of local environmental organizations.

Art Therapy. Heather Denning

Art Education. Deb Sementelli

Public History. Ben Scharff, Ph.D., is researching the evolution of the waterfront to create a story board that will be completed by the end of the spring semester for future display.

Honors Program. Justin Ross

Ambassadors. Meaghan Hubert

Outreach. Bethany Brun, Colin Hurley

Grant assistance. Matt Sanfilippo

Sister Pat Lupo: Watershed Game Table

Dancers and choreographers from other local studios and companies will also be part of Water Dance Erie. Kristen Weibel, as co-director of the dance event and co-president of the Erie Dance Consortium, coordinated local company and school involvement and taught the opening and closing gesture phrase to interested participants.

Dafmark Dance Theatre, SoMar Dance Works and the Erie Dance Theatre's junior and senior company will also share the stage. Mercyhurst Dance alumni Diandra Jones, Danielle Kaiser, Elizabeth Fisher, Dana McMillin and Emily Reed will participate in the event.

Santillano also credits the contributions of Harborcreek Youth Services, DCNR, Climate Reality, the Erie Port Authority, the Blasco Library and Erie Maritime Museum.

National Water Dance Erie: The Ripple Event is free and open to the public, funded by Erie Arts & Culture, Mercyhurst University, Mercyhurst Sustainability Fund, and many generous in-kind donations.