Mercyhurst honors six Distinguished Alumni
Friday, June 15, 2018
Mercyhurst University presented its highest alumni award – the Sister Carolyn Herrmann Award – to Sister Lisa Mary McCartney, RSM, Ph.D. '71 during the June 8-10 Reunion Weekend celebration on the Erie Campus.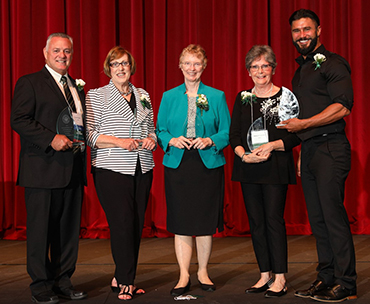 Also during Reunion Weekend:
Five other Distinguished Alumni were honored for service to their chosen fields, to their communities, or to Mercyhurst.
More than 50 members of the Class of 1968 marked their 50th anniversary.
Three student-athletes and one team were inducted into the Mercyhurst Athletics Hall of Fame.
Sister Lisa Mary was recognized for her ongoing efforts to assure that the legacy of the founding Sisters of Mercy continues to flourish at Mercyhurst even without the full-time presence of Sisters of Mercy on campus. In particular, she developed the innovative Mercy Emissary Program, which has already trained more than 80 faculty and staff members who have committed to help maintain the Mercy Mission.
Sister Lisa Mary stepped down this month as vice president for mission integration, making her the last Sister of Mercy to work full-time at the university. She will continue to work part time.
Before accepting the cabinet-level position in 2008, she had taught English at Mercyhurst from 1980 to 2004 and served on the leadership team for the Sisters of Mercy in Erie. She earned her master's and doctorate at the University of Notre Dame.
Sheila Sullivan Coon '72 was honored for service to the community. An art education major, she worked in the newspaper publishing industry for 29 years before returning to Mercyhurst. When she retired from the advancement staff last year, it was calculated that she had secured more than $14 million in grant funding for Mercyhurst programs during her tenure. In addition, she helped create Erie's Newspaper in Education program and chairs the board of the Mercy Center of the Arts. She has also been active with the House of Mercy, St. James Parish, and the Mercy Hilltop Center.
Joseph Pacinelli '78 was honored for service to his field. He worked in human resources for several local companies before joining Better Baked Foods in North East, where he was director of human resources, then director of operations and finally president for 15 years. Food retailer Schwan's purchased Better Baked Foods last year and Pacinelli is now president of Schwan's Strategic Partner Solutions unit, which manufactures private label products. He has served as president of St. James Parish Council for 35 years.
Awards for service to Mercyhurst were presented to Vivetta Petronio, Ph.D. '58 (posthumously) and to Jeanne Keim Philips '68.
Petronio, a French major, was the first Mercyhurst student awarded a Fulbright Scholarship, which allowed her to study in France. She taught languages and humanities at Mercyhurst for more than 40 years, and served on a variety of committees, including directing Mercyhurst's Self-Study as the university prepared for Middle States accreditation. Dr. Petronio died in 2015.
Phillips taught for more than 32 years before retiring five years ago. A long-time member of the board of the Mercyhurst Alumni Association, she was awarded emeritus status in 2014, but remains active, attending every meeting and helping at every event. She was also instrumental in organizing the 50th reunion for the Class of 1968.
Ivan Rusilko, DO '06 received the Outstanding Young Alumnus Award. A 2010 graduate of Lake Erie College of Medicine, he's the proprietor of Ivan Rusilko Lifestyle Medicine in Miami Beach, Florida. His practice focuses on prevention of health problems, emphasizing exercise, nutrition and other preventative measures that can directly improve his patients' health and slow the aging process. Rusilko is also the author of a romance novel trilogy based on his own life.
The Class of 1968 – the last Mercyhurst graduating class to include only women – marked its 50th anniversary by endowing a scholarship that will be earmarked for female students. A record 52 class members attended the reunion, and committee members presented President Michael T. Victor with a check for $80,000.
Joining the Hall of Fame in 2018 are:
Meghan Agosta '11, ice hockey. Agosta set records in just about every offensive category at Mercyhurst and holds a half-dozen NCAA career records, including being the leading scorer all time in Division I women's hockey history. She was named a First Team All-American twice and was Player of the Year in College Hockey America four times. In addition, she has earned three Olympic Gold Medals and one Silver Medal with Team Canada. She now works with the Vancouver Police Department.
Anthony Maher '02, soccer. Maher who graduated as Mercyhurst's career goals leader, helped his team advance to a Final Four appearance and to Top 25 finishes all four years. He was a First Team All-American in 2001. After enjoying a 10-year career in professional soccer, he is now Chief Growth Officer and Head of Incubation for 1776, the nation's largest network of incubators.
Catrina Sheaffer Spano '04, field hockey. Spano was a Second Team All-American in her sophomore year and a First Team All-American as a senior, and played in the Division II North/South Senior All-Star Game. A graphic designer, she worked at Mercyhurst for several years and now works for ECCA Payroll.
The 1998 Men's Soccer Team. The team, coached by John Melody, captured the GLIAC title, then took the region title and advanced to the NCAA Final Four, finishing with a 17-4-1 record, losing in a tight match to South Carolina-Spartansburg.
PHOTO: Recipients of Distinguished Alumni Awards for 2018 include, from left, Joseph Pacinelli '78, Jeanne Keim Phillips '68, Sister Lisa Mary McCartney, RSM, Ph.D. '71, Sheila Sullivan Coon '72 and Ivan Rusilko, DO '06. A posthumous award was also announced for Vivetta Petronio, Ph.D. '58.