Mercyhurst forensics team headed to San Juan
Wednesday, January 09, 2019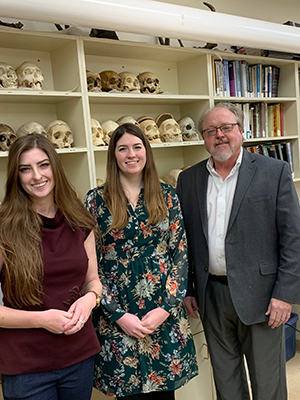 As Puerto Rico struggles to recover from the devastation of Hurricane Maria more than a year later, a team of Mercyhurst University forensic anthropologists is destined for San Juan, where they will put their skills to work in the morgue.
Budget cuts have left an overcrowded morgue and depleted professional staff to identify victims of the most destructive hurricane to hit Puerto Rico in modern times, necessitating outreach to the world's forensic anthropology community, who are being asked to donate their time and assist with travel costs.
Mercyhurst's Dr. Dennis Dirkmaat was among the sought-after experts called upon to help by the American Society of Crime Laboratory Directors (ASCLD) and National Association of Attorneys General (NAAG). He has agreed to donate his time and make the trip Jan. 14-18, 2019, along with two graduates of his master's degree program now teaching at Mercyhurst: Rhian Dunn and Andrea Ost. Five other board-certified forensic anthropologists from around the U.S. will be part of the project. They hail from Washington, D.C., Missouri, Texas, New York and Louisiana.
Dirkmaat said one of the greatest concerns in San Juan at present is the limited storage space at the medical examiner's office, where 36 sets of skeletal remains still remain to be analyzed and autopsied, and the very limited number of forensic anthropologists on the island.
Recently Puerto Rican legislator Juan Oscar Morales Rodriguez tweeted: "The situation in light of the high volume of pending cases, lack of space and specialized personnel requires immediate attention."
Dirkmaat has conducted more than 600 forensic anthropology cases, including nearly 100 field recoveries involving the processing of evidence from human death scenes, and the comprehensive forensic anthropological analysis of over 300 sets of human remains. He was primary forensic anthropologist during mass fatalities in Pittsburgh (USAir Flight 427 crash in 1994), the island of Guam (KAL Flight 801 crash in 1997), Rhode Island (Egypt Air 990 crash in 1999), Clarence, New York (Colgan Air Flight 3407 in 2009). In September 2001, he served as the primary scientific advisor to Somerset County Coroner Wallace Miller during the recovery and identification of victims of United Flight 93.
PHOTO: (L-R) Andrea Ost, Rhian Dunn and Dennis Dirkmaat