Mercyhurst ethics institute celebrates 10th anniversary
Wednesday, March 21, 2018
Dr. Swasti Bhattacharyya, an award-winning professor of Philosophy & Religion at Buena Vista University, to speak at free, public lecture on April 6.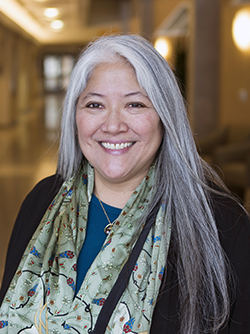 Health care environments attract a diversity of caregivers and patients in which colleagues of different backgrounds must work together effectively while administering to patients from all walks of life. Dealing with diversity in this type of workplace demands tolerance, respect and understanding for the differences in others.
Dr. Swasti Bhattacharyya will address the subject at Mercyhurst University on Friday, April 6, when the Evelyn Lincoln Institute for Ethics and Society (ELIES) marks its 10th anniversary.  Bhattacharyya's talk – "Converging Rivers: Healthcare and the Intersections of Religion, Culture and Ethics – is at 7 p.m. in the Mary D'Angelo Performing Arts Center on Mercyhurst's Erie campus. The lecture is free and open to the public. Tickets are available to the Mercyhurst community now, and to the general public beginning Monday, March 26. There is a limit of two tickets per person.
Diversity, in all its forms, abounds in the United States. The hospital is often a site where we are called upon to understand peoples of all religions, cultures and world views. Focusing on traditions within Hinduism, Bhattacharyya highlights the importance of knowing ourselves, listening to others, and working for common understanding.
Bhattacharyya is the author of Magical Progeny, Modern Technology: A Hindu Bioethics of Assisted Reproductive Technology, and a number of articles on ethics, religion, social justice and pedagogy. She is a part of her university's Gender & Woman Studies program. Additionally she serves on the board of the Peace & Justice Studies Association and is actively involved with the American Academy of Religion.
Bhattacharyya earned her R.N. and B.A. from Loma Linda University; M.A., Fuller Theological Seminary; M.A., University of Virginia; and doctorate at the University of Southern California.
For more information, contact ELIES Director Verna Ehret at vehret@mercyhurst.edu.
About ELIES
The Evelyn Lincoln Institute for Ethics and Society (ELIES) works to raise awareness of ethical issues that confront people in their social and professional lives. ELIES was established in 2008 through a generous grant from John and Emily Costigan, the latter being a 1964 graduate of Mercyhurst. The institute is named in honor of Emily's mother, Evelyn Jacobson Lincoln, who graduated from Mercyhurst in 1930. The director of ELIES is Dr. Verna Ehret, associate professor of religious studies.