Mercyhurst, Erie's Public Schools slate cyber training for high school students
Friday, February 21, 2020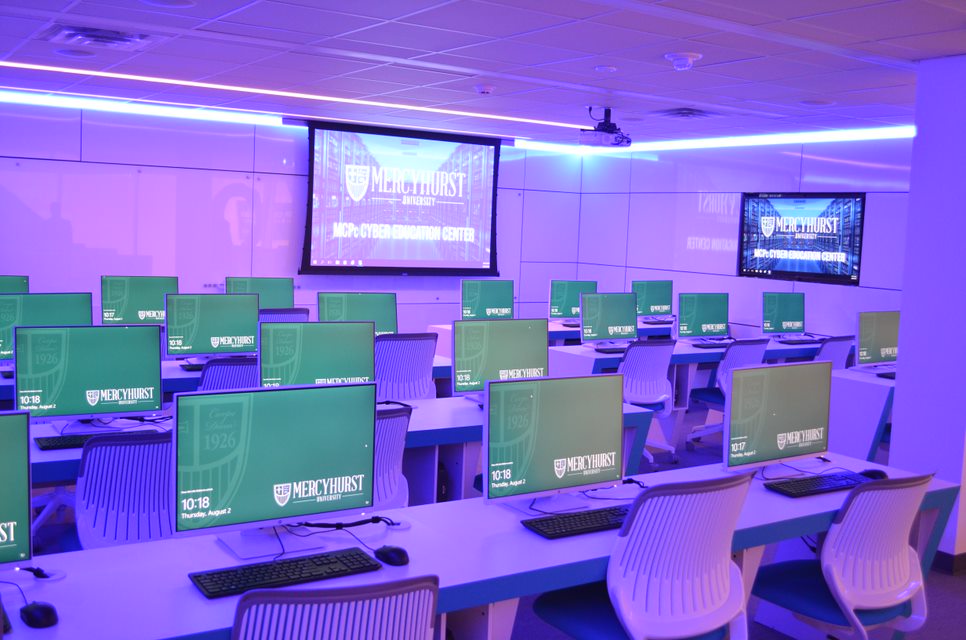 As part of ongoing efforts to prepare Erie Public Schools students for in-demand careers in the digital economy, Mercyhurst University will open its MCPc Cyber Education Center to high school students for a weekend cyber camp this March. The new initiative comes on the heels of the highly popular coding camp that the university held last summer for city school students.
The camp, which runs Friday and Saturday, March 6 and 7, from 9 a.m. to 5 p.m., is open to students of Erie High and Collegiate Academy. Called "Hurst Secures," the camp is funded through a $500,000 PAsmart Grant that Mercyhurst, the Erie Innovation District and the Erie City School District received last year to provide the foundation for a K-12 computer science college and career pathway for more than 11,000 students in 16 schools.
Principal Investigator Dr. Afzal Upal, chair of the Computer Science Department at Mercyhurst, who wrote the grant in collaboration with ECSD officials, said the upcoming camp will teach students about cyber defense, ethical hacking, recovery skills, and how to protect themselves in online environments. It will be taught by Mercyhurst's cyber security faculty.
On the second day, students will have a chance to earn prizes and demonstrate mastery of their new cyber skills in competition.  Two top performing students will receive iPad Pros. An additional 10 students will get an early reservation into Mercyhurst's Summer Coding Camps slated for June 15-26. All participating students will receive specially designed T-shirts.
"Mercyhurst is pleased to leverage our expertise in computer education, big data and cyber security to benefit the young people of Erie, especially under-served populations, which is consistent with our Mercy mission," said Mercyhurst University President Michael T. Victor of the ongoing initiative.
As part of the grant, the university has worked with the school district to identify a national standard curriculum, purchased new hardware to support the training, assisted teachers with professional development seminars, and offered summer coding camps, Upal said. 
In addition, a computer gaming lab has been outfitted at Collegiate Academy and one is in the works at Erie High School. Besides instruction, the labs will be used by school e-sports teams, which have been developed through the grant. Both schools also host Tech Entrepreneurship Clubs headed by coaches who direct student collaboration and advise on app development, marketing and other business skills.
In Erie, computing jobs are projected to grow at a rate of 9.1 percent, significantly faster than the 5.1 percent growth expected for all jobs, according to 2014-2024 projections published by the Pennsylvania Department of Labor & Industry Center for Workforce Information & Analysis. Jobs in the sectors that are growing the fastest require at least a high school diploma and some technical certification. National estimates show that as high as 85 percent of future jobs will require some computing skills.