Mercyhurst, Erie's Public Schools to prep students for digital economy jobs
Monday, February 11, 2019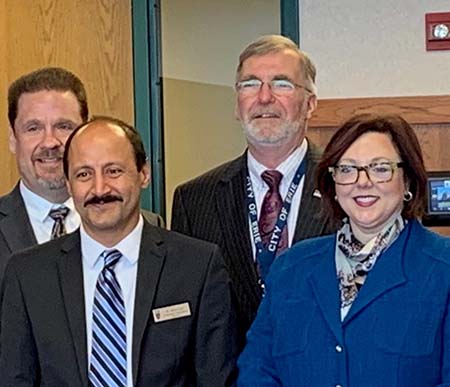 A PAsmart Grant of $500,000 has been awarded to the Erie City School District in partnership with Mercyhurst University to develop an integrated K-12 computer science curriculum that will prepare students for in-demand careers in the digital economy.
Principal Investigator Dr. Afzal Upal, chair of the Computer Science Department at Mercyhurst, wrote the grant in collaboration with ECSD officials, who say the project will provide the foundation for a K-12 computer science college and career pathway for more than 11,000 students in 16 schools.
"This is another great example of the improved collaboration between Erie stakeholders," said ECSD Superintendent Brian Polito.  "We would not be able to offer this program to our students without the financial support from the Department of Education and the expertise provided by Mercyhurst and the Erie Innovation District."
In Erie, computing jobs are projected to grow at a rate of 9.1 percent, significantly faster than the 5.1 percent growth expected for all jobs, according to 2014-2024 projections published by the Pennsylvania Department of Labor & Industry Center for Workforce Information & Analysis. Jobs in the sectors that are growing the fastest require at least a high school diploma and some technical certification. National estimates show that as high as 85 percent of future jobs will require some computing skills.
"Unfortunately, educational institutions in Erie currently are unable to meet these workforce demands," said Upal.
Mercyhurst intends to change that narrative, he said, by leveraging the resources of its Ridge College of Intelligence Studies and Applied Sciences, within which is housed cutting-edge programs in computer science and cyber security. The university is working with the district to develop the new curriculum, secure hardware to support the training, assist teachers with professional development seminars, and offer summer coding camps to Erie Schools' students at its new MCPc Cyber Education Center beginning in the summer of 2019.
Another Mercyhurst-led initiative, the Erie Innovation District (EID), will hold a key role in the project by working with existing local businesses and new tech startups to create internships and job opportunities that will give students real-world experience in the field of computing. said CEO Karl Sanchack. In addition, the EID will promote computer science by holding programming hackathons and computing gaming competitions for Erie school students. The EID will also explore other ways of attracting youth to the field, including the development of an Erie E-Sports League to link computer games and computer science.
While the EID has been successful in creating an ecosystem of high-tech startups, educational partners and business organizations working together, their continued progress can only benefit from the availability of a workforce with computing skills, Sanchack said.
"This is a momentous opportunity enabling us to leverage our expertise in intelligence studies, computer education, big data and cyber security to benefit the young people of Erie, especially under-served populations, which is consistent with our Mercy mission," said Mercyhurst University President Michael T. Victor. "We are particularly pleased to partner once again with Erie's Public Schools as we have done successfully on numerous occasions, and to work in tandem with the Erie Innovation District as it continues to make gains in transforming Erie into a major innovation hub."   
The latest initiative also maintains partnerships with Erie Together and NWPA JobConnect, which will work with the school district to increase awareness of careers open to those with computing education by creating career exploration and work-based learning experiences for students. 
PHOTO: (L-R) Karl Sanchack, Afzal Upal, Mayor Joe Schember and Provost Leanne Roberts
PAsmart Grant Background
In 2018 Governor Wolf launched PAsmart, a groundbreaking approach to prepare students and workers for the jobs of today and tomorrow through STEM and computer science education, apprenticeship and job training. In January, PDE awarded over $8.7 million in PAsmart targeted grants to expand CS to over 750 schools across the commonwealth. Advancing grants represent the next phase in the initiative's implementation.
PAsmart Advancing Computer Science & STEM Grants (Advancing Grants)
Advancing grants were designed to support broad, cross-sector partnerships that are using networked approaches to accelerate the expansion of access to STEM and computer science education through learning experience and expanding the number of STEM and computer science educators.
Advancing grants aim to fund partnerships that provide quality CS/STEM experiences to K12 students as part of a high-level strategic approach to workforce development.