Mercyhurst engages students for Veterans Tribute Week
Monday, October 28, 2019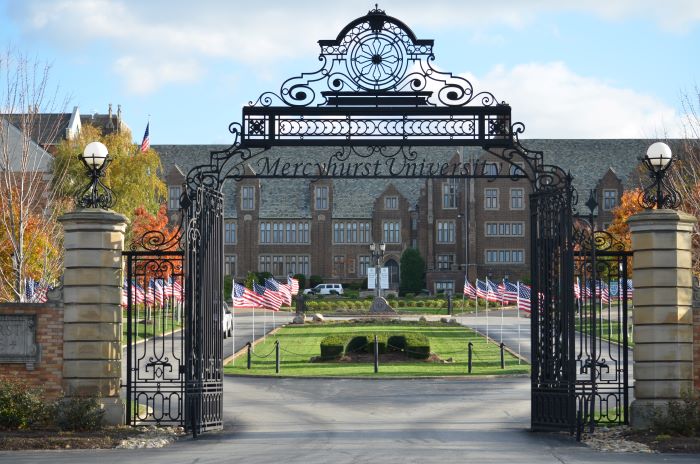 The Mercyhurst University community will once again demonstrate its appreciation and reverence for service members when it hosts its annual Veterans Tribute Week in the days preceding Veterans Day on Nov. 11.
This year's tribute features a host of activities designed to generate student participation while honoring the veterans in the Mercyhurst community.
"We thought this year would be an appropriate time to get students involved so that they can actively participate in commemorating this occasion," said Chris Constantine, veterans service coordinator. "Mercyhurst is fortunate to have a number of veterans who are either currently enrolled or are alumni, and I can't think of a better way of honoring their sacrifices than to include students in a celebration in their honor."
Mercyhurst is home to roughly 100 student-veterans, is a participant in the Yellow Ribbon Program, and in 2018, was named Pennsylvania's second Purple Heart University.
Formal festivities commence Monday, Nov. 4, when each day will begin with Mercyhurst ROTC students raising the American flag, while Reveille and Retreat plays over the carillon. The students will also lower the flag at sundown.
University community members will gather for a Celebration of Valor Thursday, Nov. 7, at 3:30 p.m. in Mercy Heritage Room, Sullivan Hall. The celebration will feature the ROTC Color Guard and a POW-MIA Fallen Warriors Ceremony before Maj. (Ret.) Joe Pfadt delivers keynote remarks. Pfadt is the founder and director of Warriors to Washington, a local nonprofit that takes veterans on trips to Washington, D.C., and other sites.
A student activities fair with a military twist will cap off the week on Friday, Nov. 8. The fair will take place at the Carolynn Herrmann Student Union from 1 to 3 p.m. and offer a number of recreational activities, including a rock wall, face painting, a military vehicle display, and card decorating for veterans.
Other student events include warrior-style runs and obstacle races around campus Wednesday at 7 a.m. and Friday at 4 p.m. 
Throughout the week, university community members will also be encouraged to wear Mercyhurst military dog tags, which students will distribute throughout campus. On Monday, Nov. 11, students from Mercyhurst's Thomas B. Hagen Department of History will provide the university community with remembrance poppies to wear in commemoration of the holiday. The poppy has been synonymous with honoring fallen soldiers since World War I.