Mercyhurst dedicates Ryan Hall Aug. 16
Thursday, August 16, 2018
Mercyhurst University provided a sneak peek of its newest student residence, Ryan Hall,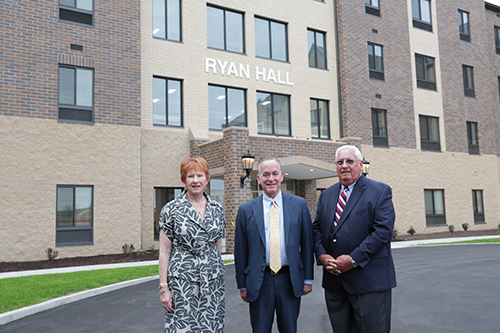 with a dedication and community open house on Thursday, Aug. 16, just a day shy of Move-In Weekend.
Named after alumna, benefactor and former Trustee Ellen Ryan and her husband, David, Ryan Hall becomes home to 359 students, primarily sophomores.
The Ryans, of Petoskey, Michigan, and Naples, Florida, were in town for the dedication and breakfast with members of the Mercyhurst administration and board of trustees. A ribbon cutting followed at 10 a.m. The college community was invited to enjoy an open house and refreshments that afternoon between 1 and 3.
The imposing four-story building along the eastern edge of campus comprises 146,656 square feet. The ground floor consists entirely of common spaces that include a reception area and lounge, a 150-seat banquet hall, convenience store and a dining hall, which is open to all students, not just those residing in Ryan Hall.
The second through fourth floors feature extra-wide hallways lined with spacious student suites, each with a shared living space and snack-prep area flanked by two bedrooms and two baths. Neutral shades of blue, grey and beige are predominant throughout the building.
Long a proponent of the residential college experience, Mercyhurst President Michael Victor said, "Ryan Hall is another manifestation of Mercyhurst University's commitment to our students in providing them the kind of campus housing and dining facilities that reinforce their success in the classroom. Today we celebrate what will become a welcoming home for generations of students and will further support their academic and personal development."
Construction of the building began in the spring of 2017 under developer Michael Redlawsk of The Westminster Group, who also developed Frances Warde Hall, a freshman residence completed in 2009 on the south campus. BSI served as general contractor and Bostwick Design Partnership as architect.
Special attention was paid to creating a building with solid materials that would be resistant to wear and tear, like the wall tiles that line the hallways, but that also radiates a certain warmth and hominess, said David Myron, vice president for finance and administration who oversaw the project for the university. And, as a university situated on a hill overlooking Lake Erie to the north, there are some spectacular views.
Meanwhile, many among the Mercyhurst community may remember gathering together after the 2017 Mass of the Holy Spirit to sign one of the steel beams used in the construction of Ryan Hall. Dozens of alumni did the same during Homecoming Weekend 2017. Both beams are situated in the building's front entrance.
In presiding over last year's community signing event, President Victor said, "Most of us will not be fortunate enough to live in the magnificent new building on our east campus. But symbolically, we can make our mark on it for generations to come. And we can do it all today as ONE MERCYHURST. Because that's what we celebrate today. Our community. Our traditions. Our respect for each other. Our belief in the power and promise of a Mercyhurst education."