Mercyhurst Dancers present 'Giselle' with full-orchestra accompaniment
Monday, November 04, 2019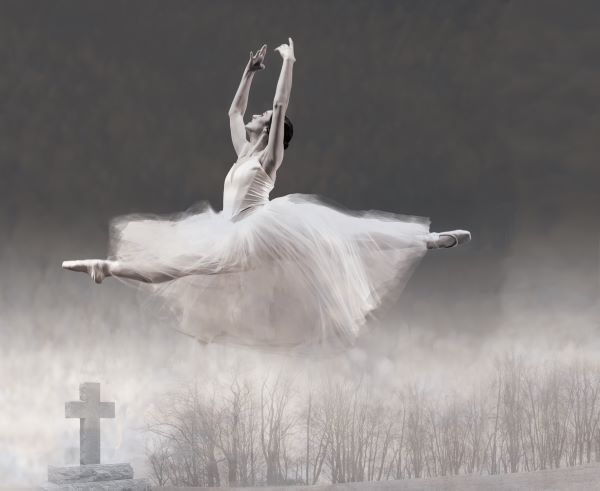 Sixty Mercyhurst dancers will take the stage Nov. 22-24 to tell a story of romance, deception, heartbreak, forgiveness, and – above all – love when the Mercyhurst University Dance Department presents Giselle, with music by the Mercyhurst Civic Orchestra conducted by Jonathan Moser. 
"Full-length story ballets are rare in theatres today, and even more so in Erie, so I am extremely excited to offer this historical gem to the community," said Mercyhurst Dance Department Chair C. Noelle Partusch. "Watching these emerging artists learning, exceling artistically, and presenting with the confidence of professionals is so magical, and many of the dancers have dreamed of an opportunity such as this since they were children."
The romantic ballet in two acts, which premiered in Paris in 1841, is brought back to life by retired dance professor Tauna Hunter. During her professional career, Hunter danced the leading role of Giselle with both Ballet West and the Colorado Ballet. "The choreography for this ballet has withstood the test of time and is the only ballet in the classical repertoire that remains true to the original," Hunter said.
Guest artist Justin Michael Hogan returns to reprise the leading male role of Albrecht. Currently a member of the Louisville Ballet, Hogan earned his B.A. in Dance Performance & Choreography from Mercyhurst in 2010, and danced the role of Albrecht with The Mercyhurst Dancers in 2009. "It's really incredible to return after 10 years to a role I danced as a student," he said. "I couldn't be more excited to see how my professional and life experiences change my interpretation. This is indeed a rare and very special opportunity for me."
Dancing the lead role of Giselle will be senior dance major Megan Carnuche and sophomore dance major Mary Joy White.
Four performances of Giselle will take place at the Mary D'Angelo Performing Arts Center: Friday, Nov. 22, at 7 p.m.; Saturday, Nov. 23, at 2 and 7 p.m.; and Sunday, Nov. 24, at 2 p.m.  Tickets are $16 for adults, $11 for seniors, $8.50 for students, and $6 for youths and Mercyhurst students and staff. All tickets are buy one, get one free through Nov. 8 (excluding previous sales). Groups of 10 or more can save $1 per ticket, and groups of 20 $2 per ticket. 
Visit miac.mercyhurst.edu or call the box office at 814-824-3000 to purchase tickets.
The Friday evening performance will be preceded by a gala reception benefiting the Jenni-Lyn Watson Memorial Scholarship Fund and SafeNet. Tickets are $50 and reservations can be made by calling the Mercyhurst Dance Department at 814-824-2256.
For more information, contact C. Noelle Partusch at cpartusch@mercyhurst.edu or 814-824-3352.