Mercyhurst Cyber Security Program adds new certificate
Tuesday, March 05, 2019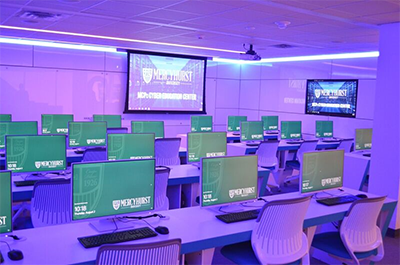 Building on last year's successful launch of master's degrees in Cyber Security and Cyber Risk Management, Mercyhurst University today announced a new addition to its comprehensive cyber program: a four-course, 12-credit graduate certificate in Cyber Security that can be completed in eight short months.
The new graduate certificate is intended to introduce prospective students to the cyber field, create the opportunity to earn professional designations, and prepare them for their choice of cyber master's degrees.
"What we found during our initial cyber launch was that some prospective students were concerned whether they had the necessary educational background to pursue a master's degree in the cyber field," explained Travis Lindahl, director of enrollment for graduate and continuing education. "One of the hallmarks of our graduate cyber programs is that you don't have to have a STEM background to enroll. Removing that barrier was intended to encourage more people to consider a cyber career. This graduate certificate, in particular, will help them make that choice with more confidence."
The graduate certificate was also created to align with professional licenses, namely, ISC2's System Security Certified Practitioner (SSCP) and CompTIA's Security+. Successful completion of the program can allow grads to earn these coveted industry designations.
"Aligning our new certificate curriculum with these industrial designations provides great value for students.  Not only do they get graduate university education, they also get professional designations that open doors to a plethora of cyber security jobs," said Dr. Afzal Upal, chair of the Department of Computing and Information Science. "It signals that the skills you will learn over the next eight months will lead to a credential that tells your current or future employer that you are ready to help tackle the cyber security issues facing their company."  
Upal and his colleagues are working to enlighten regional businesses and organizations about what has become a critical need for a minimum cyber security knowledgebase. "Our goal is to make Erie a cyber security-aware region," Upal said. "It's a goal in line with the progress and momentum being created by our friends at the Erie Innovation District."
Visit this page to learn more, or contact Travis Lindahl at 814-824-2901; tlindahl@mercyhurst.edu.