Mercyhurst Civic Institute Director Amy Eisert to receive Liberty Bell Award
Friday, April 12, 2019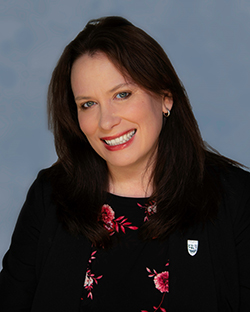 She's at home with numbers, charts and graphs, but it's what that data represents that gives meaning to her work as director of the Mercyhurst University Civic Institute.
"Those numbers represent people, quality of life for residents, and the health of our community," said Amy Eisert, whose steadfast commitment and litany of accomplishments have earned her this year's Liberty Bell Award from the Erie County Bar Association.
The annual award recognizes an individual for community service that has "strengthened the American system of freedom under law." Eisert will be recognized at the 2019 Law Day Luncheon on Thursday, May 9, at the Bayfront Convention Center.
"I am completely honored that someone would think enough of me to put pen to paper to nominate me for this award," Eisert said. "What motivates me is that I love Erie and that it is my home and the home where we've chosen to raise our own family."
In addition, she said, "I am just lucky enough to get to work alongside of an amazing team at Mercyhurst as well as an entire network of community partners who also want the best for Erie." 
Among that network is Erie County District Attorney Jack Daneri who said, "Amy's tireless work in data collection, survey analysis, and community case studies proved to be the foundation of Erie's anti-violence initiative, which came to be known as 'UnifiedErie.'  Utilizing police incident data, which attached numbers to as-yet-unknown individuals repeatedly involved in gun-related incidents, Amy literally 'connected the dots' for law enforcement to identify group violence networks, and thereby work smarter in its efforts to reverse the alarming increase in violence plaguing the city at the time."
Eisert's work with UnifiedErie is what prompted the bar association to honor her. Among the UnifiedErie projects that she has helped implement are:
Group/Gun Violence Reduction Strategy (GVRS):  Outcomes from those efforts have resulted in significant decrease in violent crime within the City of Erie, reducing the number of people shot from 72 in 2014 to 32 in 2018 and a decrease in shots fired from 379 in 2014 to 113 in 2018.
Neighborhood Resource Organization: The organization provides resources, support, and technical assistance to groups such as Neighborhood Watch Groups and Neighborhood Associations that work to make a difference within their communities. 
Erie County Re-entry Services and Support Alliance: A one-stop shop for individuals returning to the community from incarceration where they can find resources and support for jobs, housing, counseling and mentoring. 
Dr. Peter Benekos, former director of the Civic Institute and professor emeritus of the Criminology and Criminal Justice Department at Mercyhurst, said Eisert is well known for facilitating and implementing initiatives in criminal justice reform.  
"Amy has made significant contributions to improving public policies and processes in the Erie region and is recognized as an effective and objective leader in the criminal justice and social services communities," he said. 
Since 2002, Eisert has been the key contact with Erie County for Communities That Care, an evidence-based prevention science model proven to reduce levels of problem behaviors among youth. She has served as the evaluator for other state and national initiatives, including the School Resource Officer Evaluation for the Pennsylvania Commission on Crime and Delinquency and the MacArthur Models for Change Initiative for Erie County. 
She is a member of the Pennsylvania Commission on Crime and Delinquency's Prevention Subcommittee, Pennsylvania Reentry Council, and Pennsylvania Prevention Cross Systems Workgroup. She is president of the Earn It Board Juvenile Restitution Program, vice president of the General McLane School District Board of Directors, and board member for the General McLane Foundation.
Eisert received her Bachelor of Science in Criminal Justice from Bowling Green State University, Master's in Administration of Justice from Mercyhurst University and is ABD in Public Safety at Capella University.