Mercyhurst athletic trainer tapped for Steelers camp
Wednesday, August 22, 2018
Athletic trainer Jeff Haft is missing the start of Mercyhurst University's football camp this year – and he couldn't be happier about it.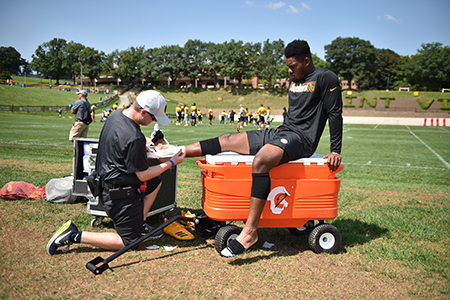 Haft is on leave from his job with the Lakers and reported to work July 23 at the Pittsburgh Steelers training camp. He had worked with the Steelers in 2016 during Optional Team Activities (OTAs) and he was tapped again this summer to fill in when a member of the regular athletic training staff went on maternity leave.
He worked with the Steelers at Saint Vincent College in Latrobe through the training camp, and will remain with the team through Sept. 1, working all four preseason games.
"I was thrilled when they contacted me," Haft said. "Then I got nervous about whether I could get the time off from Mercyhurst." However, his supervisors agreed that the experience was too valuable to pass up and that he would learn a great deal that could be applied to his work at the university. They've juggled assignments to cover for him during his absence.
Is he a Steelers fan? "I'm becoming one," Haft said diplomatically. "I was a Bills fan growing up. But you can't argue with the tradition that the Steelers and the Rooney family have built in Pittsburgh."
Haft graduated from Mercyhurst's athletic training program in 2007 and went on to earn a master's degree from Canisius College in 2009. He worked at Penn State Behrend for several years before returning to his alma mater in 2016. His recent assignments have included women's ice hockey, men's and women's rowing, and men's and women's cross country, in addition to football.
He'd like to work in professional sports eventually, either with the NFL or in hockey, motorsports or the WWE.
Meanwhile, about four hours to the west, another Hurst athletic training grad completed a summer internship with the Houston Texans at their camp at West Virginia's Greenbrier Resort.
Ryan Petrossi earned his undergraduate degree in 2017 and is pursuing a master's degree at Mercyhurst in Organizational Leadership with a concentration in Sports Leadership. During his graduate studies, he has held a graduate assistantship on the athletic training staff.
He was with the Texans from July 18 through the end of training camp. "To get a chance to work with an NFL organization and be around professional athletes and medical professionals is a dream come true for me," he said.
He, too, hopes to work one day with an NFL team or a Division I college athletic program.
Besides working with the Laker football program, Petrossi was assigned to the cheerleading team and to the men's tennis team, which he accompanied to the national championships earlier this year.
PHOTO: Jeff Haft tapes the ankle of Steelers wide receiver #19 JuJu Smith-Schuster.
(Credit: Karl Roser, Steelers team photographer)