Mercyhurst, Asbury Woods to share new Dunkleosteus discovery in 'Unearthed' exhibit this summer
Thursday, May 31, 2018
For nearly three decades, Mercyhurst University geologist Scott McKenzie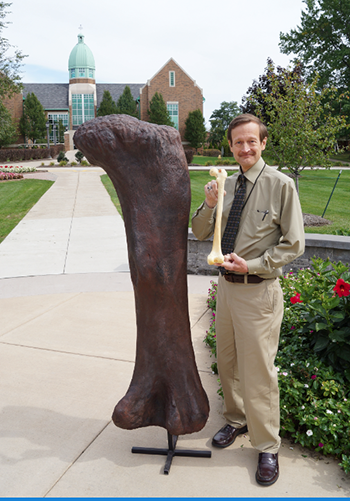 has patiently pieced together fossil evidence of what is arguably the most terrifying creature of the Devonian Period – Dunkleosteus – a powerful prehistoric fish with thick armor plating and a bite rivaling that of T-Rex.
But for all his efforts sifting through the region's sandy shale in search of remains, McKenzie has yet to encounter evidence of more than one fish at a site...
Until now.
Local resident Rich Reislund and his two sons, Jonathan, 12, and David, 10, discovered a piece of the fish's armor on undisclosed private property in McKean Township, confirmed McKenzie after examining the specimen.  And one week later they found another at the same place.
"This is the first time that we have found evidence of several of the big fish at one place in Pennsylvania and that's very exciting," McKenzie said. Records show that another collector found one at the same place over two decades ago. All three finds are of the same bone of the shoulder armor, so we could be dealing with a Dunkleosteus graveyard, he added.
The new discoveries will be unveiled to the public at Browns Farm Barn this summer, thanks to a partnership between the Mercyhurst University Geology Department, chaired by Dr. Nicholas Lang, and Asbury Woods. The Unearthed exhibition of fossils and casts runs from July 7-31. For times and details, please visit the Unearthed site.
Reislund said he and his wife, Jennifer, home-school their two sons and two daughters, Stephanie, 15, and Cassie, 7. As an educational outing, Rich took his boys to Mercyhurst's recent Dig Into Erie's Past event, which piqued an already existing interest in fossils and artifacts, so much so that the very next week they went on a field trip to search for more.
"We knew we had found something special," said Rich, upon making the discovery. "We knew it was a bone fossil because you could see the cell structure within it."
They immediately called McKenzie, whom they had met at the Dig Into Erie's Past event, and he eagerly told them about the significance of their find. 
The 10- to 30-foot predator lived 364 million years ago when present-day Erie was covered by a salt water ocean, McKenzie said, explaining that Africa was still attached to the eastern seaboard of the United States at the time. Sharks, horseshoe crabs and sea scorpions lived right here in Erie, he added.
McKenzie's efforts to reconstruct Dunkleosteus' skull and shoulder armor was the subject of an Erie Times-News story published Oct. 21, 2015. That story captured the attention of the world and led to McKenzie's project being included in a Japanese documentary on evolution. Ultimately, the documentary was translated into a number of different languages and circulated via international television markets.
In terms of the big picture, McKenzie said, "To understand that this region was once an ocean makes you appreciate the passage of time and lets you know that things are going to change in the future. In time maybe the lake will disappear. Perhaps the area will become a desert or a jungle.  Anything is possible."
FILE PHOTO: Scott McKenzie holds a human femur bone to compare its size with that of a Camarosaur dinosaur femur, which is part of the university's collection.