Mercyhurst announces new twist on accelerated degree path
Wednesday, October 23, 2019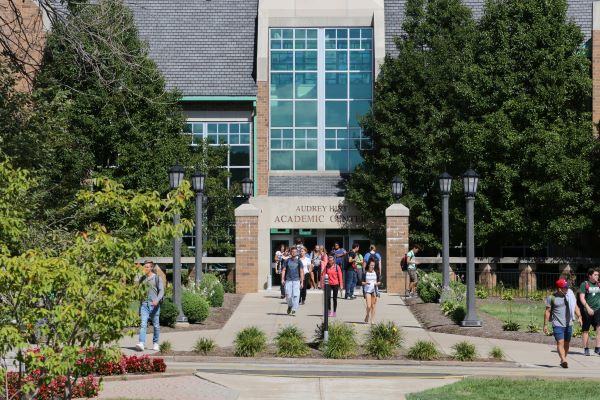 It sounds too good to be true. Qualified high school juniors take five college courses online, earn a 2.5 GPA or better, make modest monthly payments, and enter Mercyhurst University with a semester worth of credits. But it doesn't stop there. In making Mercyhurst their college choice, participants are eligible for a scholarship that essentially reimburses their original investment. It's called the Accelerated Scholars Program and it is brand new.
More and more, colleges nationwide are enrolling credit-bearing freshmen, some with a course or two under their belts, others who are graduating high school having literally earned an associate's degree. Their credits are derived through dual enrollment programs, Advanced Placement programs, or proficiency exams. 
While Mercyhurst University has long offered similar opportunities, this year it sought to produce a totally new initiative designed to create a more seamless transition between high school and college academics, while providing an antidote of sorts to the nation's college-affordability problem.
"We are always looking for new ways to make a college education more accessible and more affordable; this is simply one of a number of innovations we are implementing toward that end," said Mercyhurst Vice President for Enrollment Joseph Howard. "This model makes a freshman's first semester relatively risk free and significantly less expensive."
Upon entry into the program, students will choose from entry-level college courses like Introduction to Psychology, American Government, Macroeconomics or Calculus 1. They'll take one course in the Spring 2020 semester, which begins in January; two courses in Summer 2020; one in Fall 2020 and one in Spring 2021. They'll have $139 deducted automatically from their credit or debit card each month for the 17 months of the program. Textbook rental fees are included. 
Total price for the entire program is $2,363, which can ultimately be reimbursed through a $2,500 Accelerated Scholars Scholarship. While it is hoped that participating students will make Mercyhurst their college choice, it is by no means mandatory. All credits are highly transferable to other colleges and universities. 
Besides the convenience, practicality and value of the Accelerated Scholars Program, another differentiator is its academic quality.
"These are authentic Mercyhurst courses prepared and taught by our esteemed faculty," Howard said. "They are not 'cookie cutter' courses taught by facilitators or graduate assistants that you might experience at other universities." 
While some students may choose this path to expedite their pursuit of a college degree, others may elect to use the extra time to declare a second or third major, travel abroad, or add an internship.