Mercyhurst announces new endowed chair in music, scholarship
Friday, May 10, 2019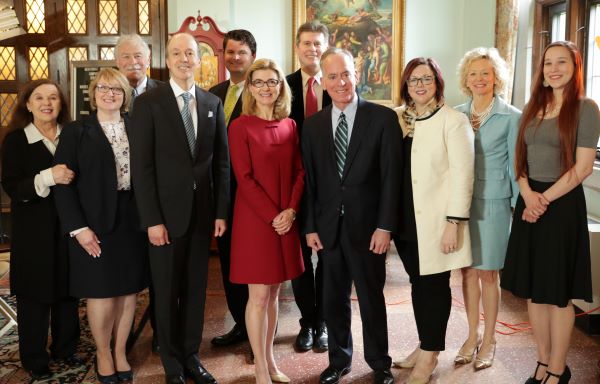 Mercyhurst University today announced the creation of a new endowed chair in Music and an endowed scholarship in Voice Performance that will be funded through a gift from Erie native Christine Spadafor, an accomplished executive whose extensive career experience ranges from corporate board rooms to nonprofits. 
Spadafor, who will speak at Mercyhurst's 91st Commencement on Sunday, May 12, has chosen to name the gift in honor of her late mother, Mary. Her generosity will create The Mary A. Spadafor Endowed Chair of Music and The Mary Pellegrino Spadafor Scholarship for Voice Performance, to be administered by the Erie Community Foundation. 
Although neither Spadafor nor members of her family are Mercyhurst alumni, Spadafor said they are well aware of Mercyhurst's acclaimed music program as well as the university's overarching commitment to arts and culture.
In making the gifts, Spadafor said, "My mother lived to be of service, not only to family and friends, but also to people she never met. Respecting the dignity of all people and helping others was a way of life for her."
Spadafor said her gifts to Mercyhurst represent a tribute to her mother's lifelong love of music. "These gifts are endowments because we seek to make more than a momentary gesture," she said. "Rather, we desire that mom's generosity and kindness to others be carried forward in perpetuity. It has been said 'Music is the language of the spirit,' and as Mom's spirit will continue to live on, it is fitting that her legacy supports music educators and voice performance students for many generations to come."
The endowed chair gift will support the salary, professional development, expenses and other scholarly activities of the faculty member serving as chair of the Mercyhurst Music Department, a position currently held by Nathan Hess. The scholarship for Voice Performance is merit-based and will go toward activities like internships, music festival study, and graduate school auditions to support the chosen Voice major.
The inaugural scholarship recipient is junior Lydia Bolin of Orono, Maine.
"For an individual who has no direct connection to Mercyhurst to make such a generous gift is humbling and we take great pride in honoring Ms. Spadafor's mother in this special way," said Cal Pifer, vice president for external relations. "For Mercyhurst University, Ms. Spadafor's gift further enhances our commitment to quality scholarship and teaching in the field of music, while serving to enhance our academic reputation and institutional prestige."
Spadafor has been at the vanguard of American women in business leadership positions, achieving partner status in three international management consulting firms including the prestigious Boston Consulting Group. In China, she served as a consultant to the United Nations. For more than a decade, she has led her own management consulting firm. 
She was recognized by the American Bar Association as one of the nation's top 20 female business lawyers with expertise to serve on corporate boards. And today she serves on the board of directors of a publicly traded company listed on the New York Stock Exchange. 
As a child growing up in Millcreek, she learned from her supportive and devoted parents, Arthur and Mary Spadafor, about the joy, duty and responsibility of "giving back."  In Sunday's graduation talk, she will address graduates on the challenges of balancing external success with the internal rewards of purpose, meaning, and social contributions.  
Spadafor received a juris doctor from Harvard Law School and a Master of Science degree from Harvard School of Public Health. On Sunday, Mercyhurst will present her with an Honorary Doctor of Letters degree in recognition of her career achievements as a leader, innovator and entrepreneur. 
The announcements were made during an 11 a.m. news conference followed by a luncheon. Attendees, photographed from left, include: Louisa Jonason, director of the Mercyhurst Opera Program; Christina Riley Brown, Hafenmaier College dean; Michael Batchelor, president, Erie Community Foundation; Arthur Spadafor, brother of Christine Spadafor; Cal Pifer, vice president for external relations; Christine Spadafor; Nathan Hess, Music Department Chair; President Michael Victor; Provost Leanne Roberts, Susannah Frigon, vice president of philanthropic services, Erie Community Foundation; and Lydia Bolin, inaugural recipient of Spadafor voice performance scholarship.