Mercyhurst adds MSN to full suite of nursing programs
Thursday, April 04, 2019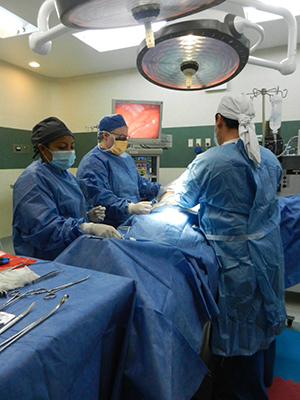 Mercyhurst University today announced the launch of a Master of Science in Nursing (MSN) degree, adding to its wide-ranging suite of nursing programs.
Beginning this fall, the university will offer an MSN in Integrative Nursing Leadership, a fully online program developed to educate nursing leaders knowledgeable in critical decision-making, patient safety, leadership skills, and purposeful integrative practice.  
Mercyhurst offers multiple pathways to enter and advance in the field of nursing, including those of LPN, ASN, RN-to-BSN and, now, MSN.
"The nursing shortage is not going away anytime soon," said Dr. Judith Stanley, program director and chair of the Department of Nursing. "Couple that with a high rate of burnout and compassion fatigue, and it's clear that there needs to be a program that prepares nurse leaders who can care for our caregivers – other nurses – along with those that we serve."
Currently, 100 percent of nurse managers must have a BSN or MSN to continue in the nurse manager position if the hospital has, or is seeking, Magnet Recognition. "In our region, the demand for master's-prepared nurses was up 123 percent over the last four to six years," Stanley said. "We're confident that training nurse leaders in the Mercy tradition can help fill that gap. We want to develop resilient nurses who can rely on our core values – respect, service, integrity and compassion – to excel in their positions."
The program was created with the guidance of a 10-member advisory board, which included representation from UPMC Hamot, UPMC Chautauqua, LECOM, Erie VA Medical Center, and Saint Vincent Hospital.
"Erie's health care community has been very supportive during the creation of the program," Stanley said. "Each organization's goals rely a great deal upon the ability to hire and retain quality nurses. We have honored this need by developing a program that allows RNs to remain in their full-time positions as they complete their MSN on a part-time basis."