'Merciad' wins two awards from Keystone Student Press
Thursday, February 15, 2018
Mercyhurst University's student newspaper, The Merciad,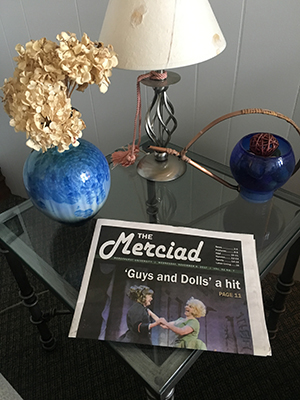 scored a first-place win in the column category and took second place in layout and design in the 2018 Keystone Press Student Awards.
The contest recognizes high school and college journalism that provides relevance, integrity and initiative in serving readers. Mercyhurst competes in Division II, which includes four-year colleges and universities with enrollment under 10,000.
Student writer Marina Boyle took first place for her columns on "Roommates make or break the year," "New water bottle stations bring joy," and "Educational SAC/MAC events a must."
The Merciad staff earned second place for its layout and design presentation of the university's student production of Guys and Dolls.
The student newspaper staff, directed by advisor Kristin Bowers, includes Amber Matha, editor-in-chief; Cheyanne Crum, managing editor; Caitlyn Lear, news editor; Abigal Rinard, features editor; Bernard Garwig, sports editor; Jenny Sabliov, arts & entertainment editor; Lauren Abbott, opinion editor; Meghan Maker, copy editor; Chelsea Guida, photo editor; and Megan Stubbs, advertising manager.
In learning of the students' accomplishments, Bowers said, "These awards are a testament to the hard work of this year's Merciad staff. They took the initiative to redesign the newspaper, and they work hard every week to create a product that reflects the Mercyhurst community. They should be proud of all of their accomplishments this semester, and the recognition from the Pennsylvania NewsMedia Association reinforces that."
Gannon University and Edinboro University each took an honorable mention for feature photo and graphic illustration, respectively.