Men's hockey selected to compete in 2020 Friendship Four in Ireland
Thursday October 10, 2019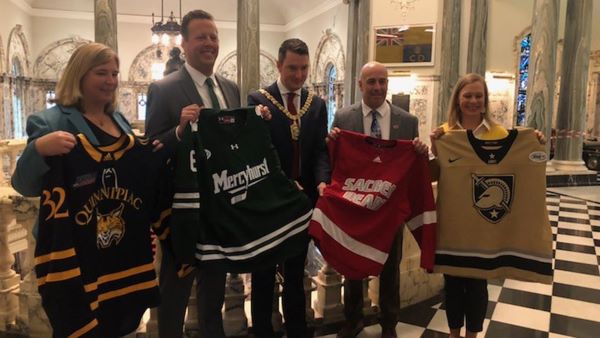 The Mercyhurst University men's hockey team will play in the 2020 Friendship Four in Belfast, Northern Ireland, according to an announcement made Thursday morning at Belfast City Hall.
Mercyhurst, Army and Sacred Heart are the first three Atlantic Hockey members to play in the Friendship Four. Quinnipiac will round out the field with games slated for Nov. 27-28, 2020.
"It is truly an honor to have Mercyhurst selected to participate in the Friendship Four next year," said Athletic Director Brad Davis. "I want to thank Atlantic Hockey Commissioner Bob DeGregorio, the other college hockey commissioners, along with the city of Belfast and its Organizing Committee for their support. Mercyhurst University has many roots in Ireland, and it is truly a natural fit for us to have the privilege to play college hockey in Belfast next year."
Head men's hockey coach Rick Gotkin called the prestigious hockey tournament in Belfast "a wonderful opportunity for our program.  We talk about the student-athlete experience a lot at Mercyhurst University and how we can continue to enhance that experience. I cannot imagine a better way for our team to explore, learn, and grow both on and off the ice than to go to Ireland next November."
Gotkin expressed his thanks to Mercyhurst President Michael Victor, Vice President for Student Life and Athletics Laura Zirkle, and Athletic Director Brad Davis for their efforts and support in making the opportunity a reality.
The games will be played at SSE Arena, home of the Belfast Giants of the Elite Hockey League. SSE Arena has hosted the Friendship Four since 2015.
Additionally, the teams will take part in cultural experiences, including visiting with youth groups and exploring the deep history of Northern Ireland. Each iteration of the tournament has been an international success, seen on television across North America and Europe, and attended by more than 20,000 spectators.
PHOTO: Mercyhurst AD Brad Davis, second from left, with representatives of three other teams selected to play in 2020 Friendship Four.