Library renovations slated to commence this summer
Wednesday, February 20, 2019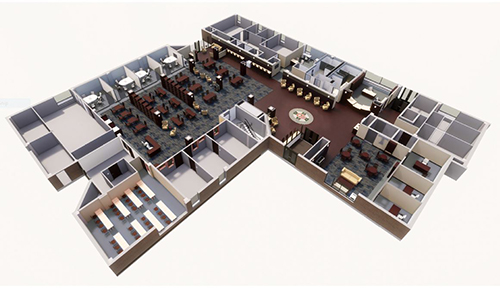 When students arrive for Fall Semester 2019, they'll discover a completely new library experience, according to Cal Pifer, vice president for external relations and advancement, who has been instrumental in securing funds for extensive ground-floor renovations at Hammermill Library.
Pifer said the goal of the $1.5 million project is to provide an upgraded space that is comfortable, welcoming, engaging and collaborative for both individuals and groups of students – a space where students can study and access academic resources for their projects and assignments, as well as reach out for tutoring assistance and writing coaches.
"This is an expansive, signature building on our campus," Pifer said. "We need to open it up and make it into a showcase for the entire university and bring it in line with our community's needs and uses."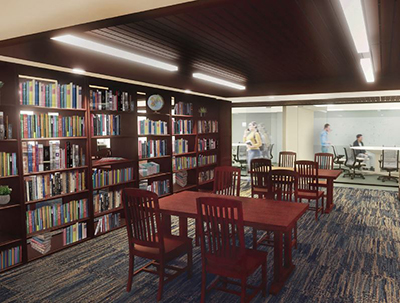 The project will also help showcase one of Mercyhurst's premier archives: the Thomas J. and Michele Ridge Collection.
A brand new Public Services/Circulation Desk area will greet students as they enter the main doors. Renovations feature several sections of comfortable seating and new tables for studying; new shelving to display an assortment of books, reference materials, magazines and newspapers; a modernized Writing Center and an updated area for tutoring services.
With the remodeling, Classroom L225 will become the official University Testing Center. This will create a designated space for students who need to make up exams or require support while taking tests.
In response to student requests, four new collaborative study rooms with high-tech glass write-on boards and wall-mounted interactive computer screens are also in the works.
The work, slated for summer 2019, is expected to be completed by the fall semester. Project design is by the Erie firm of Weber Murphy Fox.