Lanzillo, Melody honored for tireless dedication to the university
Wednesday, October 16, 2019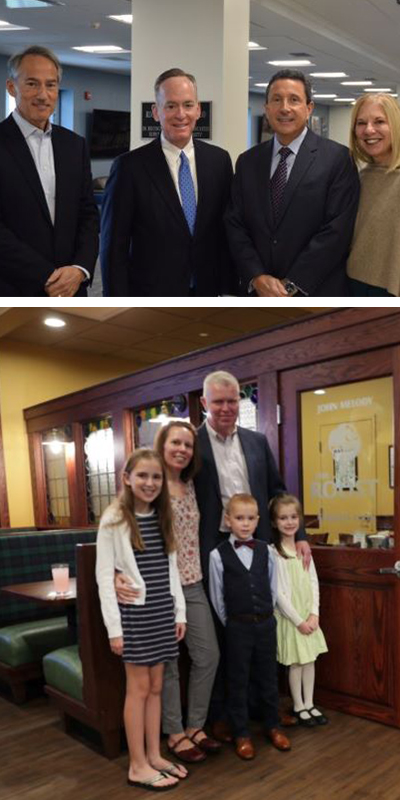 In separate events last weekend, Mercyhurst University honored two of its most esteemed alumni: Honorable Richard A. Lanzillo '83, former chair of the Board of Trustees; and local restauranteur and native Irishman John Melody '90.
On Saturday, the Trustees, as part of their quarterly meeting, gathered to honor Lanzillo, who a year ago was named Magistrate Judge of the U.S. District Court, Western District of Pennsylvania, following a 30-year legal career with KnoxLaw. 
In 2003, Lanzillo became a trustee and rose to chairman of the board in 2016, only ceasing his affiliation last year due to ethical and professional obligations of his judgeship. 
During his tenure, he helped oversee the construction of the university's newest student residence, Ryan Hall, on the east side of campus. The trustees chose to name the spacious ground floor lobby after Lanzillo, calling it The Honorable Richard A. Lanzillo Lobby.
"As two-time Mercyhurst Student Government president, Rich worked to increase student involvement in the governance of Mercyhurst and to help improve campus life," said Mercyhurst President Michael Victor. "In a very real sense, that hasn't changed. As an alumnus and trustee, Rich dedicated his efforts toward helping Mercyhurst react to changing times and develop programs that would best fit students' needs. Eventually, he chaired the board and co-chaired the search committee with our current board chair, Joe NeCastro, that recommended my appointment as the university's 12th president. For that, I will always be grateful."
Earlier on Friday night at 5:30, the Mercyhurst Board of Trustees gathered at the university's Irish pub, The Roost, where they christened the Guinness Room in Melody's name.
A hospitality management graduate who operates three Erie restaurants and a beer store under the U-Pick-Six brand and is constructing two more local eating establishments, Melody was instrumental in infusing an authentic Irish charm in The Roost. Melody worked with Betsy Frank, director of executive office projects and events, to create the unique space in the lower level of the Carolyn Herrmann Student Union. 
Besides being a longtime friend and fan of Mercyhurst, Melody also worked at his alma mater, both as a soccer coach and in the university's advancement department. Melody is a native of Dungarvan, Ireland, sister city to Erie.
"John is an impeccable ambassador for Mercyhurst, not only in terms of his success in what can be a challenging industry, but in his willingness to give back," said Victor. "He is the consummate Irishman – so friendly and giving in nature – and we are proud to call him an alum."
PHOTOS: TOP: From left: Mercyhurst Board Chair Joseph NeCastro, President Michael Victor, the Honorable Richard A. Lanzillo and his wife, Jo-Ann. BOTTOM: The John Melody Family