Lakers alum Ryan Zapolski to start in goal for Team USA
Friday, January 05, 2018
COLORADO SPRINGS, Colo. – Mercyhurst University alum Ryan Zapolski '11 was selected to the 2018 U.S. Olympic Team in the sport of men's ice hockey, as announced Monday by USA Hockey.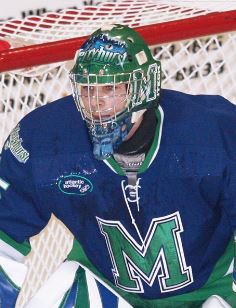 Zapolski represents one of the 23 men's ice hockey players selected to Team USA at the 2018 Olympic Winter Games in PyeongChang, South Korea, in February. The PyeongChang Games mark his first Olympic appearance.
 
Of the 23 athletes selected to the 2018 U.S. Olympic Men's Ice Hockey Team, all but three skated collegiately at 13 different institutions.
 
Zapolski played for Mercyhurst from 2007-11. During his time as a Laker, he was named to the 2008-09 All-Atlantic Hockey Association Second Team and the 2009-10 All-AHA Third Team. Zapolski appeared in 109 games for the Lakers, putting up a season-best goals-against average of 2.22 and save percentage of .934 during his sophomore year.
 
He is currently a member of Jokerit of the Kontinental Hockey League. So far, this season, he has a 21-8-3 record in 32 games while compiling a 1.68 GAA and .935 save percentage.
In a Jan. 1 AP story, Coach Tony Granato was reported as saying that Zapolski hasthe tools to be the Americans' starting goalie. 
 
Zapolski was previously named to the U.S. Select Team in 2013, 2015 and 2017.
 
The PyeongChang Games kick off in South Korea on February 9 and will conclude February 25. U.S. men's ice hockey competition begins February 14 at the Kwandong Hockey Centre in the PyeongChang Coastal Cluster. The gold-medal game will be held February 25 at the Gangneung Hockey Centre.
 
Final selections to the 2018 U.S. Olympic Team are subject to U.S. Olympic Committee approval; the full team will be announced at the end of January.